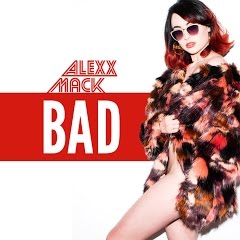 Remember Willa Ford's single "I Wanna Be Bad?" And remember how it didn't at all put you in the mood to do anything remotely scandalous?
Well fast-forward more than a decade and give a listen to Alexx Mack's "Bad" (which has no correlation to the former, just to make things clear). The infectious pop track will probably put you in a sexy mood (I'm talking to you, single ladies!), but at the very least, it is absolutely fitting for background music as you primp, pre-going out.
"I'm really excited about it, it's definitely my favorite thing I've done," Mack tells skyelyfe of the track. "I'm the crazy one out of my friends. I'm inspired by those times you go out with your friends and you want to do stupid shit and you see a really hot guy … and that's what it's about. I don't think I've ever really released that inner sassiness in my music before, so that's how that came out."
Mack's equally catchy track "Sparxx," which was released in late 2013, has a Ke$ha vibe (in my opinion) and it caught the ears of Perez Hilton, who has written about the unsigned artist on multiple occasions.
"I am not exactly sure how [Perez discovered my music], but I woke up one day to a text message from a friend who wrote, 'Congratulations, you're on Perez Hilton.' I was like, 'What the fuck? What just happened?' I looked and he posted about me. He's been very supportive and it just kind of came out of nowhere, which is really cool."
But Mack's sound and message on her latest track differs from what she's done in the past.
"I took about a year off to discover who I was and what I want my music to sound like," she explains. "I was working with Chris Bernard, the producer of the track, and we wrote so many songs. But it was about three months ago that he was working on this track, and I was like, 'holy shit. What is that?' And he was like, 'I don't know. I have this idea for you.' After that, we tried singing all these melodies over it and nothing was clicking."
Adds Mack: "We left it for a couple days and then went back and wrote the song with this guy named Tre Campbell. He's a really good friend of ours. We [put it together] in about three hours. It was the quickest I've written anything. We never changed one word, we never changed any melodies. It was the same from the time we wrote it to the time we recorded it and released it. I definitely think my voice and everything is changing because I've wanted to move into more of a genuine sound to my voice. I have a really big voice and I want to show that off and be able to embrace that."
Since moving to L.A. just three years ago, The Sunshine State native is finally finding herself.
"Florida is a lot more reserved and out here it's a lot more comfortable being [me]," Mack says. "In Florida, it's 100 degrees, but you always have to be very conservative. That just wasn't me. Being out here, my style has evolved and my friendships are a lot more in-depth. I have a lot more in common with people here. It's not just, 'What school do you go to?' Here has helped me grow a lot as a person and as a musician. I've met incredible writers and producers and they've helped me grow."
Mack refuses to compare her sound to anyone else's, and rightfully so. But she does look up to a couple of artists in particular.
"I really admire what Betty Who is doing," Mack says. "She's amazing. Her and Charli XCX, all these girls who are out right now are really killing it and I totally admire their work ethic and everything that they're writing. I write my own music, too, and music is changing, so I definitely think that being a writer has a lot to do with music now."
5 FUN FACTS
Last time I apologized: "I think I accidentally hit my sister when I was over for my mom's birthday. I kind of smacked her and I was like, 'Oops, sorry!' We're best friends, so it's totally cool."
Last time I drank too much: "Oh shit, probably when I recently went out for Mexican food with my friends. I had a lot of tequila."
Last time I had a delicious meal: "I went to Gracias Madre with my girlfriends. Oh, my god, we had a girls' day. Every time I go there, I get a plate and I'm like, 'Oh, this is so much food,' but it's so good. I go to Gracias Madre a lot – like more than I should. It's a problem."
Last time I was annoyed: "I have a strangely easygoing personality. I really don't get annoyed too much. I like to go with the flow. It was probably something in the studio with Chris. We work a lot together and we fight with each other over things, so that was probably the last time I got annoyed. But I get over it right away."
Last pair of shoes I bought: I bought a pair of Jeffrey Campbell shoes and they were pointy-toed stiletto, boot things. They are really cute.
[divider_flat]