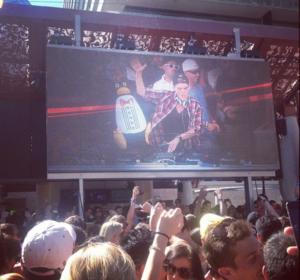 Yesterday, my musical world was turned upside-down, following a Billboard push notification I received on my phone with the heartbreaking news that Avicii died at the shocking age of 28—news that clearly rocked the entire music industry.
If, like me, you've recently taken a deep dive into the electronic DJ and producer's lengthy discography to relive some of his highlights, you've probably been mentally transported to a Vegas hotel with a Sirius EDM station blasting from your room, toasting to your wild day that lies ahead.
That's where his music takes me. His earlier sound epitomizes that feeling of fun, freedom and no cares in the world.
But whether physically in Vegas or simply sitting here in front of my laptop from my West Hollywood apartment, there's no doubt the artist (born Tim Bergling) has a happy association for me.
While I certainly commend all of the artist's creative vision—he was one music's all-time biggest innovators—I'm definitely partial to his songs 2009-2013.
With that, I've selected my five all-time favorite Avicii songs (and yes, I did throw in a newer one), and ranked them in order. Happy listening!
5. "Talk to Myself" (Stories, 2015)
Following Avicii's country-inspired detour, I was pleasantly surprised by Stories, which included a bit of what we'd been hearing from him lately, but also some of what caused us to fall in love with him in the first place. Included in his throwback sound was "Talk to Myself," which I listed as my 5th favorite song of 2015. And now I'm also listing it as my 5th favorite song of his altogether.
4. "Street Dancer (Radio Edit)" (single, 2011)
One of Avicii's much lesser-known tracks, this song takes me back to my pre-Spotify iPod era, when I would spend countless hours discovering music on YouTube and then have to use this special website to convert each song into .MP3 format (ah, the good ol' days). While this song never took off, it will forever be a mainstay in the playlists I associate with a very particular time in my life. The music was so good back then, and this song is no exception.
3. "I Could Be the One [Avicii vs Nicky Romero]" (single, 2012)
The hilariously motivational music video easily draws my attention to this song, but the track itself is filled with Avicii's signature sound of this era, making it a surefire classic from his repertoire.
2. "Levels (Radio Edit)" (single, 2011)
Not only is this the song that put Avicii on the map, but it's also a track that defined a fresh generation of music. If there's one thing I hope to come of his passing, I hope it brings on the resurgence of this iconic gem.
1. "Silhouettes" (single, 2012)
How this beautiful song, about leaving the past behind, didn't get more play is beyond me. This melodic masterpiece is not only my favorite Avicii song, but by far my favorite electronic song of this decade.
For all five songs in a handy playlist, scroll below!
[divider_flat]