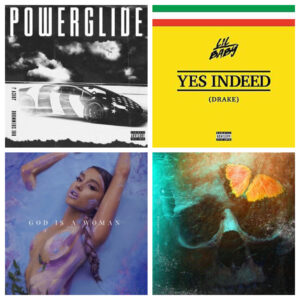 When it comes to music, 2018 was an interesting year… to say the least.
You had the bad (the emergence of SoundCloud "rappers"); the surprising (Pusha T had a resurgence seemingly out of nowhere—and in a major way); the consistent (Cardi B just kept the hits comin'!); the classics (Death Cab for Cutie reverted back to their Plans-era sound with the release of Thank You for Today).
And while this was the first year in a very long time that there wasn't a song I was consistently obsessed with, I will say there were still indeed some gems.
Keep reading for skyelyfe's definitive ranking of the 18 best songs of 2018 (and scroll to the very bottom for the full playlist):
18. 'Northern Lights' by Death Cab for Cutie
I had to give this song a few listens before accepting this was actually from 2018, and not 2005—but this is meant in the best way possible. DCFC's entire Thank You for Today was a much-appreciated time warp back to their Plans and Transatlanticism-era days—ones they've diverted from slightly in recent years. "Northern Lights" is the perfect uplifting melody, with the story-filled lyrics the band has maintained consistently. But seriously, this entire album is so good. It's a reminder that "real" music still exists in this day and age.
17. 'Back to Life' by Hailee Steinfeld
Hailee Steinfeld has certainly had some catchy hits, but this gem from the Bumblebee soundtrack is without question her best. It's uplifting, easy on the ears and really showcases her vocal talent. It's truly an instant dose of happiness.
16. 'Tease' by Ralph
Canadian indie pop artist Ralph's music is a wonderful reprieve from everything going in the world. Not only does her sound take you back to another era, but her lyrics are light, and her melodies are easy on the ears. And I guess it's an added bonus that she's adorable and sounds even better live. I had the pleasure of seeing her perform at The Moroccan Lounge during a rainy night in DTLA a few months ago, and it was a wonderful experience.
15. 'OTW' by Khalid, 6LACK, Ty Dolla $ign
Following the release of last year's "Location," I didn't know if I could ever grow to like Khalid, as that song made a terrible first impression on me. "OTW" was the second song I'd heard by him (and the first by 6LACK), making me willing to give Khalid another chance. The dark, melodic jam produced by Nineteen85 (and with some additional vocals by Ty Dolla $ign) gives off those sexy '90s R&B vibes in a way I haven't heard in a long time.
14. 'Science' by Allie X
Allie X was definitely my artist of the year. The Canadian synthpop princess consistently churned out bop after bop, and that was pretty evident when it came down to the tough decision of picking just one song for my Top 18—it was between "Science," "Focus" and "Girl of the Year." While I only chose one track to be on this list, Super Sunset deserves its fair recognition as one of the best albums of the year.
13. 'God is a woman' by Ariana Grande
When I first saw the title to this song, I thought it was going to be a feminist ballad—and while it was certainly written in a way to empower women, it's much more sexy before it is girl power. While most fans and critics hail "thank u, next" as Ariana's song of the year, I have to say "God is a woman" never gets old, and when holiday season passes, I have a feeling the Christmas jingle-esque novelty of "thank u, next" will eventually fade as well.
12. 'Walk It Talk It' by Migos f./ Drake
Following their 2017 breakout year, Migos continued to churn out the hits in 2018. While "Walk It Talk It" is no "Motorsport" or "I Get the Bag," it was a radio hit that I couldn't quit, and even Drake's verse impressed me.
11. 'Young and Reckless' by Charlotte Lawrence
One listen to Charlotte Lawrence's well-developed vocals, mature lyrics ("Let's just get undressin',
get arrested, it's fine") and impressive production, you wouldn't believe (just as I didn't) that she's only 18. The daughter of actress Christa Miller and behind-the-scenes Hollywood extraordinaire Bill Lawrence, the beautiful budding indie pop singer proves she has all the talent in the world to make it—established parents or not.
10. 'Drop' by G-Eazy f./ Blac Youngsta & BlocBoy JB
This song has all the components of a potential hit, but where did it go? This was definitely my early July anthem. I expected it to be huge, but it never took off. Either way, it deserves recognition, as it has one of the catchiest beats I've heard all year, and G-Eazy actually flows nicely on the track. And while I am totally anti-SoundCloud rappers, BlocBoy JB proved to be my one exception throughout the whole year.
9. 'Under' by Transviolet
Much like Allie X, selecting just one Transviolet song to make my Top 18 is no easy feat. With captivating melodies and lyrics that are equal parts heartbreaking and empowering, it's hard to ignore this L.A.-based indie group's appeal. "Under" is an expression of resilience and keeping your head high when you feel like you're sinking.
8. 'High' by Sizzy Rocket
Alluring and mysterious, "High" is a diversion from Sizzy Rocket's more angsty, girl-power productions of years past. Whether you're in fact getting high or simply just lounging around in the house, this is the perfect track to keep you in a mellow state of mind.
7. 'Powerglide' by Rae Sremmurd
"Powerglide" was one of the first new hip-hop singles I heard on the radio in 2018—and it's certainly one of the most underrated. While I thought for sure this would take over airwaves and set the precedence for a year of blast-worthy bops, I was indeed in for disappointment when the track barely got any love. Either way, this is a surefire jam, and even if it didn't get as much mainstream love as it deserves, I'm giving it its fair acknowledgment right here.
6. 'On Your Side' by Penguin Prison
In a year full of either really crappy music or music that made us think way too much, Penguin Prison brought us this upbeat, carefree tune that evokes 100% good vibes. There are not enough wonderful things to say about this little gem right here.
5. 'MI Amore' by FRENSHIP
Much like the song that precedes it, "MI Amore" is all things upbeat and lively. According to what the duo told Billboard, the track is about "when you love something and truly care about it, chase after it with every ounce of your being and don't let anyone or anything get in the way." Amen!
4. 'Without Me' by Halsey
Raw and well-produced, it would take a heartless person to not feel an ounce of bittersweet emotion upon hearing this song. Not only is the track itself well-done overall, but it completely showcases Halsey as a true artist, in case anyone had their doubts.
3. 'Let Me Know' by LeyeT
I was unfamiliar with LeyeT (pronounced "light") prior to hearing this song, but the indie pop tune has me very intrigued about this artist moving forward. The incredibly soothing melody accompanies lyrics that beg the question so many of us wonder: Are we more than just friends?
2. 'Yes Indeed' by Lil Baby & Drake
Because this song came out in the middle of the year, I can't quite call it my 2018 anthem, but, once it dropped, it was on regular rotation nonstop. The only reason it didn't make it to the No. 1 spot is because it's a whopping 2:20 minutes long. So, while I wish there'd been a little more effort, I will never say no to this track.
1. 'My Life' by ZHU f./ Tame Impala
This isn't the first time ZHU's fallen into the No. 1 slot of my top songs of the year. His collaborations are key, and "My Life" by Tame Impala exemplifies just that. Easy on the ears, mellow on the mind, I could listen to this for hours and never get bored.
[divider_flat]