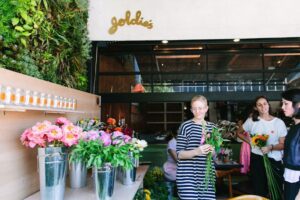 "Blooms, brunch + besties" was the tagline for BloomThat's event at Goldie's in L.A. last week, and it was the ultimate feminine affair.
I brought my good friend Natalie along with me, and we were greeted with mini mimosas topped with varying edible flowers. After we grabbed our beverages, we made our way to the food table, where we piled mini french toast triangles, kale salad and avocado toast bites onto our plates, before sitting down at our flower-filled table. Following our meal, we were able to create our very own personalized bouquets, with options ranging from basil and mint, to roses, sunflowers, lilacs, you name it!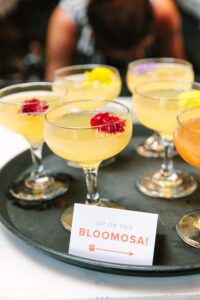 The objective of the brunch was to spread the word to Angelenos about the San Francisco-based flower delivery service. BloomThat's online operation offers day-of delivery with a plethora of colorful options right here in Southern California.
When we departed the adorable dining experience, we not only walked away with our self-made bouquets, but we were also gifted an additional bouquet of beautiful yellow flowers, a perfect summer centerpiece to brighten up my living room!
[divider_flat]