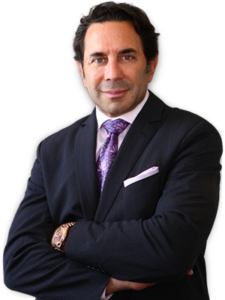 Botox? Boob job? Lipo? Heck, facelift? We all probably have a thing or two we'd like to get done to look svelte this summer, right? Well, who better to share the dos and dont's of cosmetic procedures than renown Beverly Hills plastic surgeon Dr. Paul Nassif (who also co-stars on E!'s Botched and formerly Real Housewives of Beverly Hills).
Dr. Nassif sat down with skyelyfe last week at Cecconi's West Hollywood, and chatted about all things skin and plastic surgery – including the simplest, non-invasive way to keep that face looking shiny and new.
While he's all for Botox (he admitted he's currently due for some more), he proudly boasts the effectiveness of his brand new three-part line, NASSIF MD Bio-Rhythmic Skincare (we'll get to the plastic surgery convo further down).
"I work very long hours and I don't sleep a lot," he says. "I'm always taking care of underneath my skin – my face and eyes and all that stuff. So, I'm thinking, what happens to your skin when you're working your butt off and you're [not getting enough sleep] to repair?"
Nassif thought about what types of ingredients he could get in a skincare line that amplify the own natural rhythms of the body and are the most antioxidant.
So, two years later, he came up with "something that was unique and powerful, without irritating the skin."
If you're not sleeping, his product (which comes in AM, PM and exfoliant) "excellerates those natural ingredients."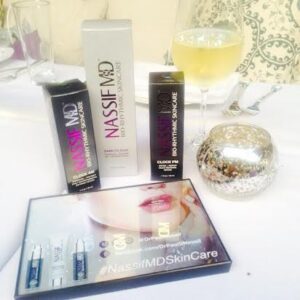 The road to perfecting the skin is all-natural in the form of Nassif's products – but he certainly also helps aid people in stepping up their look in ways that aren't as organic. Read on for Dr. Nassif's list of most important things you need to know if you plan on going under the knife!
1) Recognize what is the most challenging cosmetic procedure
"The hardest thing I deal with that any plastic surgeon does is the nose," Nassif says. "When I get into rhinoplasty revision, that's what's difficult. It's the hardest surgery of all. It has the highest revision rate – 20 percent. It takes the longest to recover. If you have your nose done, you need to go to a super-specialist. That's what I'm internationally known for. I do beautiful facelifts and stuff, but a lot of doctors can do a good facelift. They can't do a good nose."
2) There's a huge no-no among people who want to get work done
"People try to save money on plastic surgery," Nassif says, shaking his head. "That's the biggest mistake right there. Don't do it. And don't go to a jack-of-all-trades. You need to go to a super-specialist."
3) There's one invasive procedure everyone should get done if they can afford it
"I think that almost every woman starting in their early forties needs to have a little skin from their upper eyelids taken," Nassif explains. "That to me makes the eyes pop more than anything. A patient [recently came in to do that] and her husband went nuts of how excited he was after even two days with stitches in her eyes. It just opened up her eyes and you can see more skin. It looked natural, and that was the biggest thing."
[divider_flat]