Over the last two years, we've seen no shortage of plant-based eateries popping up all over L.A. But with so much of the same, any new development will have to bring something fresh to the table (pun intended!) in order to make its mark. Enter: Brothers Meatballs fast casual Italian in Hollywood.
Brothers Mauro and Sergio Corbia are trusted, decades-long vets in the restaurant industry, with Mauro most notably founding the immensely popular and legendary Mauro Cafe inside Fred Segal. Years later, the duo teamed up to give Sunset Blvd. a taste of their upbringing by way of meals inspired by their mom's Italian home-cooking. But, with a plant-based kick. Using Follow Your Heart and Violife for their cheese, and a top-secret house-made recipe for their meat, the pair selected the finest ingredients to make up their gourmet alternatives.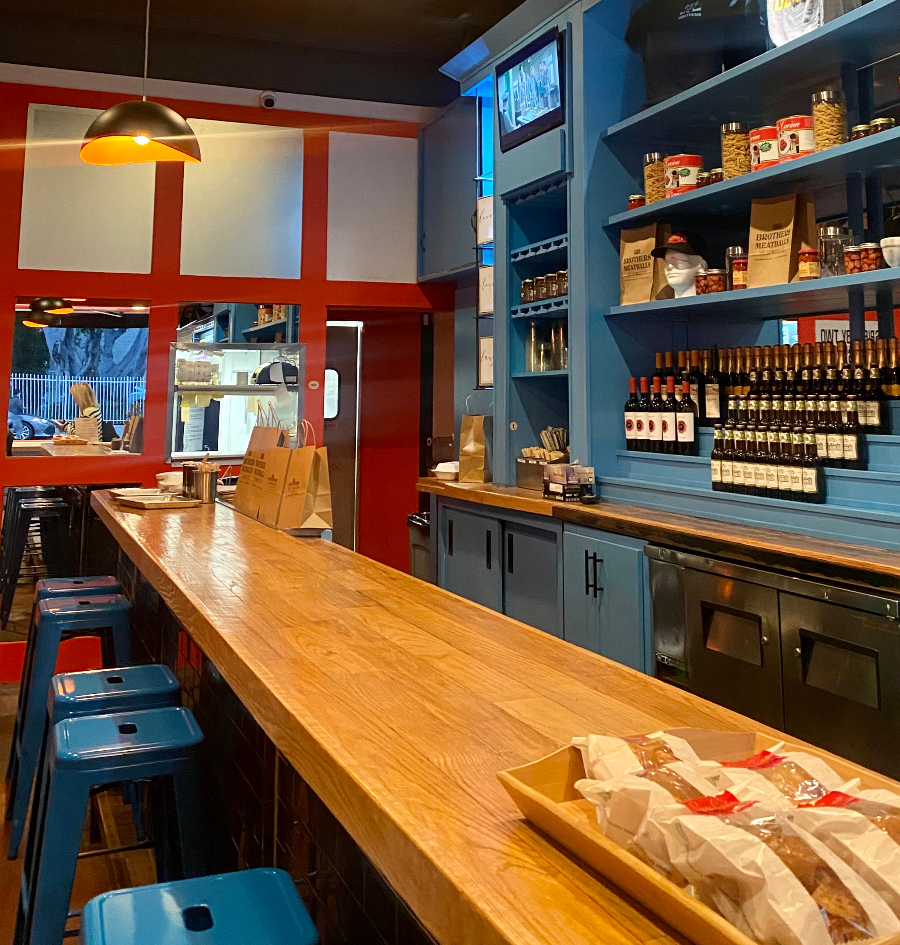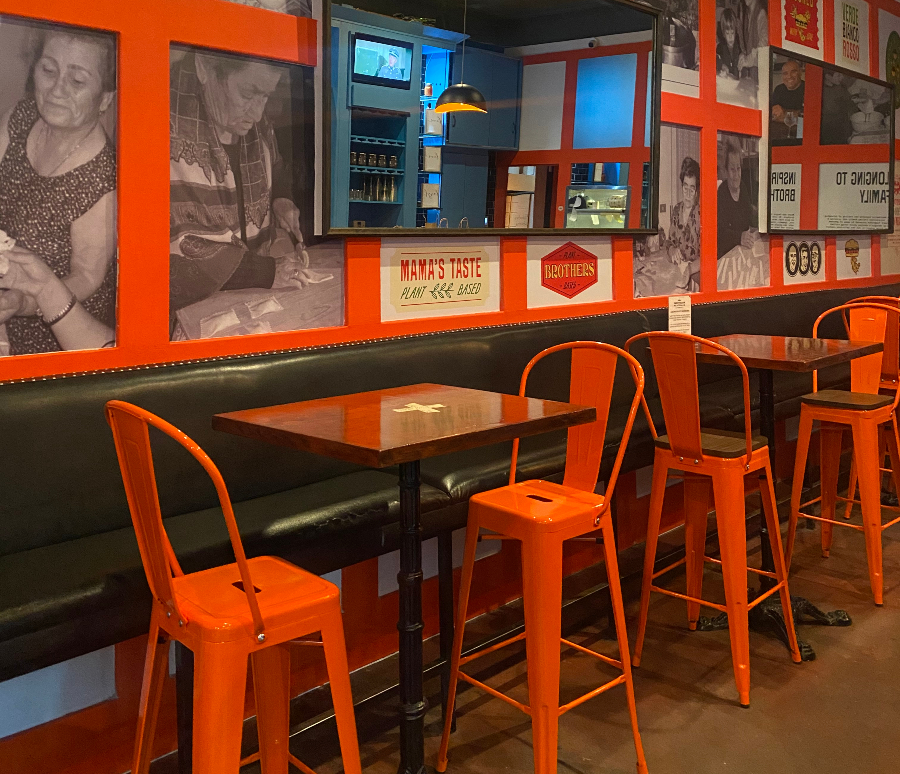 The 1960s Italy-inspired interior features real black and white images from the brothers' photo albums, including shots of their mom hard at work in the kitchen. Additionally, the eatery is adorned with orange and blue-colored seating options, which includes spots at the bar and by the open space looking out onto Sunset Blvd.
When I received an invite for my very own taste test, I jumped at the chance. While not plant-based myself, I cover plant-based options extensively and am always intrigued by the latest developments that continue to arise in this space. With the exception of products that are strictly soy (which is becoming much less common these days anyway), I find plant-based options delicious. Especially when it comes to dairy products, I will opt for plant-based any time I can—especially from a gourmet kitchen.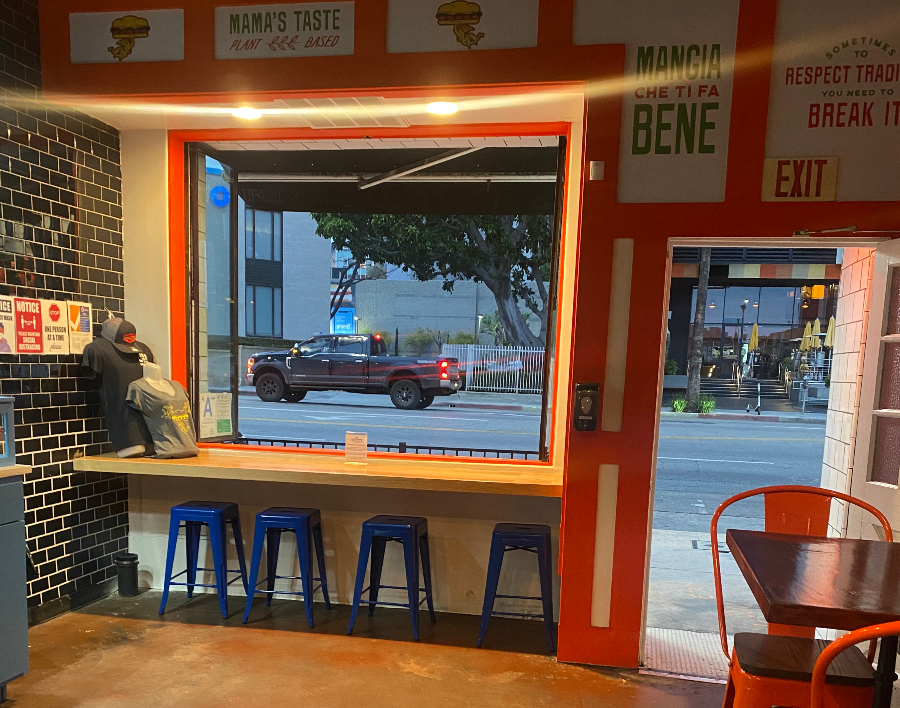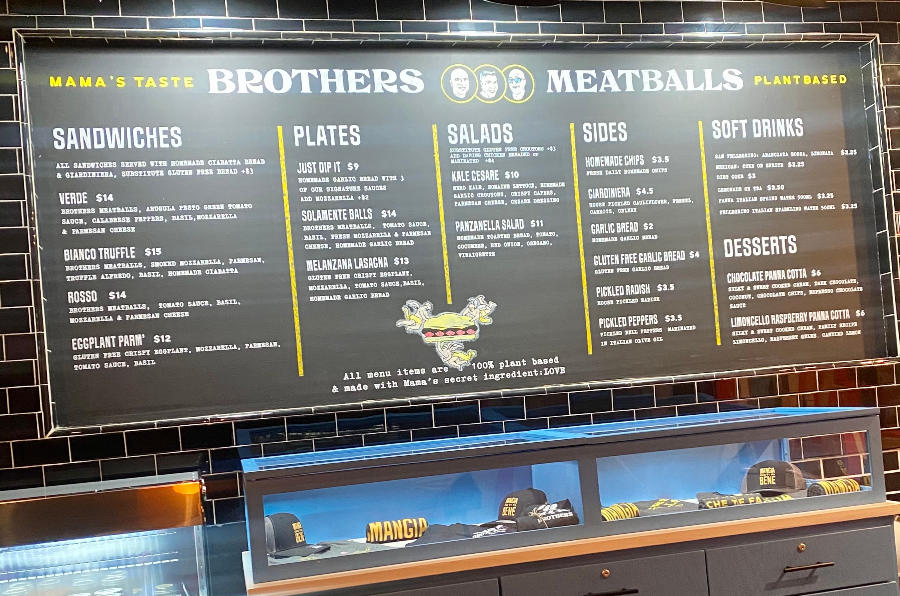 Upon arrival to Brothers Meatballs, my guest and I (who is also a traditional meat-eater) were asked to take a look at the menu and select what sounded to our liking. We decided to share the cheesy bread with three signature dipping sauces (which came highly recommended—and rightfully so—it was our favorite), the Bianco Truffle sandwich (Brothers meatballs, smoked mozzarella, parmesan, truffle alfredo, basil), traditional pasta with tomato sauce and "cheese," a Panzanella salad (house-made toasted bread, tomato, cucumber, red onion, oregano, vinaigrette) and, of course, a glass of Italian wine.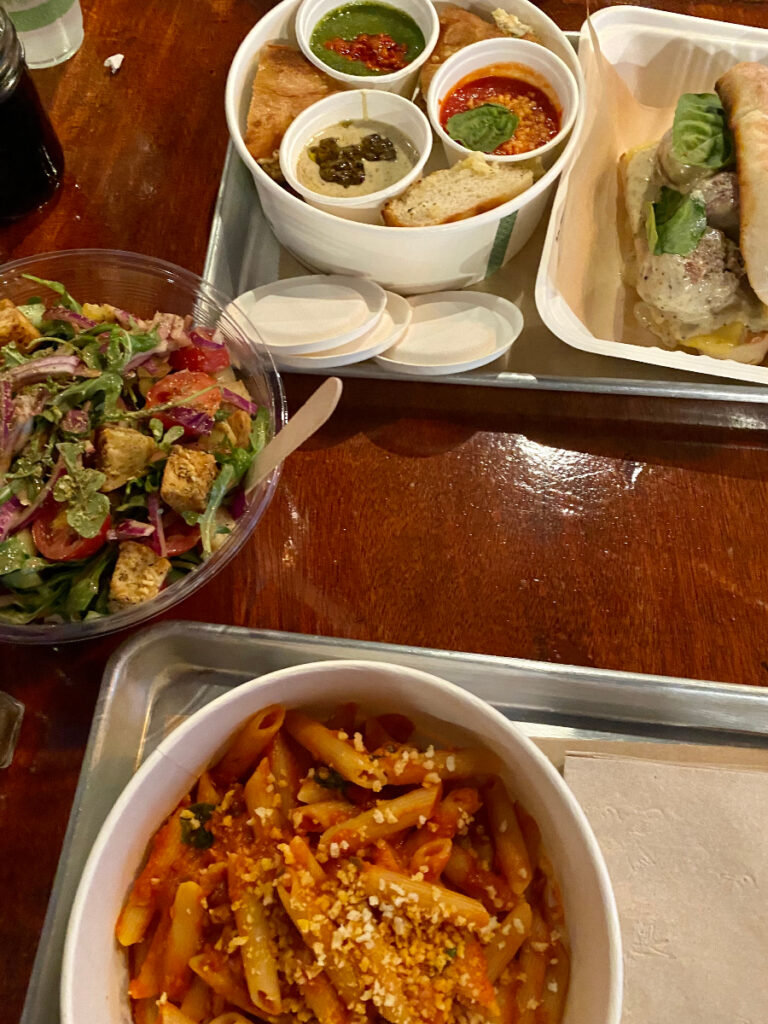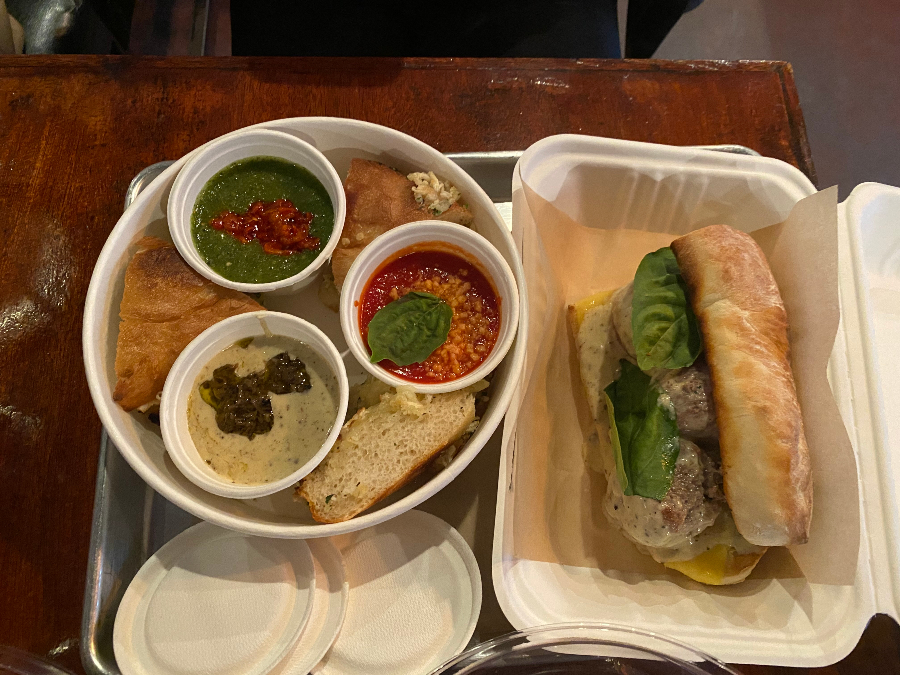 If the aforementioned options aren't up your alley, Brothers Meatballs offers their version of other common dishes, too, including eggplant lasagna (Melanzana), meatballs and "cheese" (Solamente Balls), Eggplant Parm' and a few other sandwiches.
Not only do the dishes truly taste like authentic Italian home-cooked meals (you really can't tell they're plant-based), but all packaging is made from plant-based materials sourced from VegWare, a leader in compostable foodservice products. On top of that, the brothers came out and greeted us. We could even see them whipping up the fresh bites straight from the kitchen. And as an added bonus, they wouldn't let us leave until we tried both of their mouthwatering desserts (Chocolate Panna Cotta and Limoncello Raspberry Panna Cotta)!
If you like what you see, you can also head next door to Fabiolus Cucina—a Hollywood-based restaurant where brother Sergio serves as Executive Chef and co-owner.
Craving more plant-based options in L.A.? HERE's everything to know about Extra Market on Fairfax.