We're no stranger to the CBD space. From applying The Good Patch Nite Nite to help us catch some Zzzs, to dropping tinctures of SMPLSTC CLM under our tongues to ease anxiety, we've certainly toyed with variations of this hyped ingredient.
While we usually feel immediate results from mood-enhancing CBD products, the skincare side of the phenomenon is a different story. What does CBD-infused skincare actually do, and is it safe on all skin types?
To help us get to the bottom of this, we spoke to Dr. Manisha Singal. The expert and Aethera Beauty ambassador is also the author of The CBD Skincare Solution: the Power of Cannabidoil for Healthy Skin. She answers all of our burning questions below.
skyelyfe: What are some general benefits of CBD in skincare?
Dr. Manisha Singal:
There are well-identified anti-inflammatory and antioxidant properties of CBD. Topical formulations aim to deliver this natural plant-based compound to cool inflammation due to common toxic exposures, such as UV rays, environmental pollution and makeup. It also has properties to stimulate skin plumpness by its influences on collagen and elastin production, diminishing appearance of fine lines. Similar to aloe vera, topical CBD is proving to also take the sting out of skin injuries due to minor cuts and reduce the itch experienced from mosquitos bites.
SL: Are there any benefits CBD offers to the skin that other powerful ingredients do not?
DMS:
CBD is not a one-note natural compound. Chemically, it is akin to our own cannabinoids that we have been reliant on for health and balance since we were born. Whether CBD is applied topically or ingested, it works on the same Endocannabinoid System (ECS), network of receptors, neurotransmitters, and enzymes found throughout our body, including our skin. In the beauty and skincare industry, benefits are seen in skin healing, pain relief and youthful glow. What's exciting but as of yet not regulated is the added benefits of combining CBD with other well-known ingredients for our skincare. Education and attention to details in these formulations is key for any consumer. 
SL: Is CBD comparable to other skincare ingredients on the market?
DMS:
The antioxidant powers of vitamins A, C, and E are comparable to CBD. For example, vitamin A, from which retinoic acid is derived, is credited with cell regeneration, skin firmness; vitamin C stimulates collagen production, and vitamin E fights those nasty free radicals. CBD is rich in all these properties.
SL: Which skin type(s) work most effectively with CBD? Which skin type(s) work least effectively with CBD? What can be the result of a negative reaction to CBD skincare?
DMS:
We've barely scratched the surface when it comes to understanding the science behind CBD's many observed benefits. This is true as well for skin types. What we do know is that all skin types are susceptible to injury from UV rays and other environmental pollutants. CBD is well-poised to help us in our skin's battle to protect from these and other exposures irrespective of our skin type.
Where we need to be extra cautious is to know what chemicals or oils are in topical CBD formulations. If one's skin is prone to over-oil production, certain moisturizing creams may exacerbate and cause reactions. Always perform a skin patch test to see if the particular CBD product is right for your skin type. Avoid layering multiple products, as it will likely promote an unpleasant and undesirable response. If one does have more than a mild redness to a product, stop and contact your doctor for care and possible allergy tests.
SL: Are there any products you recommend in particular for people easing into CBD skincare for the first time?
DMS:
For people interested in exploring CBD as part of their skincare, I would recommend starting with a product containing CBD isolate. I have come to learn from amazing chemists that it's very complicated to formulate broad spectrum CBD topicals, often leaving a consumer to experience the chemical additives and not CBD itself. I also recommend starting with a low mg dose concentration, as we all have our own unique genetic makeup. What suits one person may be an entirely different experience for another. Start low and go slow.
I would also start by introducing just one CBD product, such as a moisturizer, into your daily regimen. See if it has an effect and, if it doesn't, replace it with a similar product containing a greater amount of CBD. Once you're comfortable with that product, you can consider adding another one. CBD is the big new thing, and it's expensive to process. Reputable beauty companies are understandably charging a premium for many of these new products, so it also makes good financial sense to ensure that you're getting a noticeable result as a return on your beauty product dollar.
SL: What should consumers be looking out for on a CBD skincare label? (both good and bad)?
DMS:
You should make sure that your product has the amount of CBD that is stated on the label and without toxic impurities. A 2017 Journal of the American Medical Association that analyzed 84 CBD products sold by 31 different online companies found that 1 in 5 contained marijuana components. Other studies have shown that the CBD concentration in products is much lower or non-existent versus what brands have claimed on their packaging. I would make sure to only use a trusted manufacturer and ask to see their Certificate of Authentication. Legitimate companies test their product for potency and purity.
SL: Are there other ingredients that go particularly well or poorly with CBD?
DMS:
Since the passing of the Farm Bill in 2018 and the legalization of CBD extracted from hemp plants, there's been an explosion of products in the skincare industry. Unfortunately, without full cannabis legalization by the federal government, consumers are in the wild west with dangerous product claims that CBD can be mixed with any ingredients. It's highly advisable for a manufacturer to partner with chemists to do safety and sustainability testing when formulating products with CBD.
It's also important to understand the relevancy of mixing certain ingredients with CBD. For example, CBD has great antioxidant and anti-inflammatory properties. The addition of CBD to other natural active vitamins, omega fatty and amino acids will have wonderful boosting and calming effects on our skin. On the flip side, we don't have enough information on the relevancy of adding ingredients such as DMAE and kinetin.
SL: Are there CBD-free products you recommend that can still provide similar effects? 
DMS:
At Aethera Beauty, we're aware that many consumers would not be comfortable using CBD and we have replicated our entire line of CBD skincare products in a hemp seed version. Hemp seed oil is rich in the omega fatty acids, amino acids and antioxidants—all nourishing topically as well as internally, as seen in salad dressings. Hemp seeds and hemp seed oils contain none or minuscule amounts of CBD.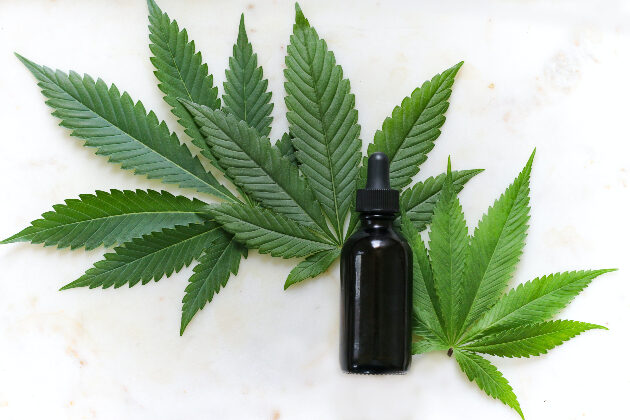 SL: How did you start working with Aethera and why do you support its products? If you could recommend just one of their products to consumers, what would it be?
DMS:
As a consumer, I've had my fair share of reactions to various creams and body washes. As a doctor, I'm knowledgeable on the terrible side effects which my patients may suffer from the very medications we prescribe. My dive into CBD was due to both my own extreme skin reaction to hair dye and my husband's need for relief from his Crohn's disease. My research was eye-opening as to CBD's powerful anti-inflammatory benefits. My husband has an inflammatory bowel disease. My skin rash was an extreme presentation of inflammation of my skin. CBD helped calm both of our bouts with inflammation. The aha! moment was the added glow on my skin, and this led to development of CBD skincare SKUs at Aethera.
Aethera is unique, as it's a partnership with chemists at a reputed green lab with years of experience in formulating non-toxic prestige skincare lines. We take pride in using the highest quality CBD isolates and other well-studied active botanicals to create our line. It's important to ensure the ingredients in our formulations go through rigorous testing and make sense for the expected user experience.
Our hero, my hero, is the Everyday Botanical Brightening Concentrate with CBD.
Curious about other leading CBD beauty brands? HERE's what to know about American Vanity, the very first science-based CBD skincare line.