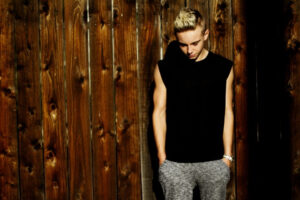 Sure, Chris Bones is currently on the High School Nation Tour, but he wants to make one thing clear: He's no bubblegum act.
The 17-year-old, who hails from Tulsa, Oklahoma, insists to skyelyfe that his new music "will have an R&B-pop feel with an edgy, dangerous quality, and sort of like a Justin Timberlake feel, too, like where he does the breakdowns where the song can move into a totally different place and then come back to where it started."
Although his perfectly executed covers of Nick Jonas' "Jealous" and Ed Sheeran's "Thinking Out Loud" have stayed true to the singer-songwriter style of sound, he swears you'll hear a totally different side of him when his debut EP drops next month.
" 'Stay wit It' definitely has more of an urban feel," Bones says of one of the soon-to-be-released tracks. "But then '2 Broken Hearts' really combines that R&B element, but you still get that super dramatic, theatrical feel. It's kind of a cluster and blend of everything I can soak up as an artist."
Read on to learn about Bones' love for fashion, his unique hobby and what he says he'll definitely avoid if he hits it big:
skyelyfe: What has been the response to your Nick Jonas and Ed Sheeran covers?
Chris Bones: The response has been really great. Even some kids at the schools [during High School Nation Tour] have come up to me and told me they watched my covers and that I have an amazing voice. I just put out covers to show that this is me, this is who I am and this is how I'd do this song if it were my own.
SL: What has your experience been like overall on the High School Nation Tour?
CB: This was my first tour and it's going really well so far. I've been excited to see the honest reaction from people. I feel like a high school crowd is probably the most honest reaction you can get. They will [express that] they love your music or really just hate it. The reaction has been great and I am super excited about that. I wasn't nervous, but I was just curious to see how the kids like it. San Bernardino has been one of my favorite stops. The fans were so crazy and hyped. I mean, everyone's been super excited, but by far they were the most. I gave out a signed T-shirt during my set and they screamed so loud. I was like, "Oh, my gosh!"
SL: Tell me about this fashion line you are working on.
CB: I've sketched some things. I have a couple of ideas. I'm terrible at sewing, so I don't want to do sewing, but I definitely have creative ideas and when I'm on a big tour, I want to wear all my own stuff. It will definitely be simple stuff that packs a big punch – that natural quality with that dangerous edge. I'd say something like a Givenchy–Alexander Wang mix with a black and white contrast. But Givenchy is where that edginess comes in. They always put the stars and the studs on their stuff. I want to call it Bones after my last name.
SL: How would you describe your own personal style?
CB: Right now I'm into black and white contrast. I really like black shirts with a big white stripe on them. I really like the longer length T-shirts that have the slits on the side. I just bought a pair of blue jeans that I'm going to rip. And I'm getting into sweatshirts a lot more. You could say I'm getting lazy and I really want to be in comfortable clothes [laughs]. I shop a lot at Topshop and Zara.
SL: What's the one thing you want to avoid if you hit it big?
CB: Getting caught up in everyone telling me I'm amazing and having that quality that nothing can touch me. Instead, I want to always know that I worked really hard to get to where I am and remember that it really can all be taken away in an instant with one wrong step. I surround myself with the right people and I have a close group of friends and that's going to stay the same. I built a lot on loyalty, especially with who I work with and stuff like that.
SL: Are there any fellow musicians who set a good example for you?
CB: There's this band that I'm on tour with right now called Palaye Royale. They're super cool and their style is super crazy, but they're super down-to-earth, too, which is cool. But as far as people I knew before this tour, London Richards is super cool. And he kind of combines fashion with pop music.
SL: What's something about you that most people don't know?
CB: I fly airplanes. I'm a student pilot. Something about flying and being in control of the plane once you're up in the air is really relaxing. I know it's probably not the safest thing, but sometimes my mind will drift and I'll just relax.
[divider_flat]