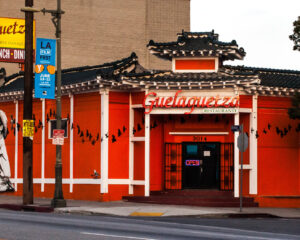 To most people, the thought of Mexican food goes hand-in-hand with margaritas and Mariachi bands – but to a resident of Los Angeles, the way your Carne Asada is cooked for your fajitas takes a backseat to the possibility of who you might end up standing next to on the smoking patio of the trendy, South-of-the-Border-themed eatery cooking up that hot plate.
Mexican restaurants in L.A. are no joke, and when it comes to Cinco de Mayo, you can bet on the most scene-y individuals making it out to one of the city's many sit-down hotspots (El Compadre, El Coyote, El Cholo, Gracias Madre, Don Antonio's, Mercado, Toca Madera, Mexicali, Casa Vega, to name a few) known to provide quite the wholesome Hollywood crowd.
Not to say there's anything wrong with wanting a vibrant ambiance, but if you're looking to avoid obscene lines and save hours on getting overly glam for the night – yet still have a swell time with super cool folks – there are several under-the-radar mainstays in the City of Angels that are a must for events like these.
Keep scrolling to read about five consistent Mexican hotspots that you can visit today to avoid "the scene," but still keep the festive fun!