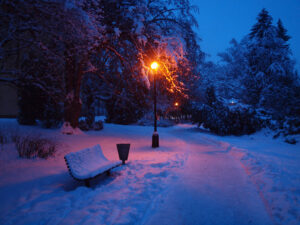 Nothing officially welcomes winter quite like the beautiful sound of rain falling on my rooftop. And luckily for me, that is my current soundtrack in between writing this and (somewhat) tearfully taking down all of my fall decorations in acknowledgement of the first day of the fresh season.
But in addition to the pitter-patter from the sky, I've also compiled a playlist of my favorite handful of tracks that are perfectly fitting for this time of year.
You may recall my fall playlist that included The Shins and Death Cab for Cutie, among others. Well, fast forward a season, and it's time to incorporate an even mellower sound. Below is my playlist of 15 winter-esque tracks from Feist, Bon Iver, Skye (had to – *wink*), Olivia Broadfield, Blue Foundation and more. Enjoy!
[divider_flat]