It doesn't matter how active you are or how up you are on your fitness knowledge – FITfluence was a major must for anyone who lives a moderately healthy lifestyle. I had so much fun. It was located at the YouTube space in the Marina del Rey area, and although it was way outside of my typical L.A. travel parameters, it was neat to check it out since I'd never been before.
I picked up all kinds of cool products (more on those in a bit), I met so many great new people, I sat in on an intimate panel with top-tier fitness bloggers and learned all these nifty strategies to building my brand and, most importantly, I ate so many delicious healthy vegan bites from Beyond Meat and Locali. I steer clear from soy, but I will admit this "chicken salad" Beyond Meat served up on mini-crackers was the closest tasting thing to actual chicken that I'd ever tried of the impostors. Locali then had four different salads just packed with avocados, quinoa and other amazingly appetizing delights. They had all these scrumptious lite dressings, too!
And then there were of course the liquids. Clover juice and KeVita sparkling probiotic drink were both on hand to provide samples of their latest creations, so when guests wanted to switch from sipping cocktails from one of the two bars at the event, they could quench their thirst with something a bit healthier.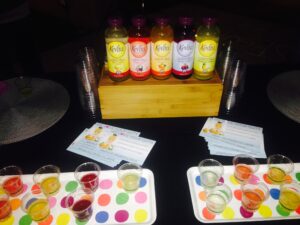 Now onto the goodies!
If you know me in the slightest, you know I have no luck with phones. I used to lose them, now I just break them. The employees at uBreakiFix literlly know me by name and give me $20 off because they feel so bad. So it was a lovely surprise to encounter Exofab, a stick-on case that comes in all kinds of cool colors. It's light and non-intrusive and its material somehow can set on mirrors and refrigerators, so for selfie satisfaction, they come in handy.
On top of that fun little gadget, I scored my first pair of Teeki yoga leggings. They're so cute and funky. I also swooped a gold, heart-covered overnight bag from LeSportsac. They had a slew of cute designs up for grabs, so I kept going back and forth with my selection choice. Then I got these neon non-lace laces, called Hickies, for my workout shoes. They're plastic, and once they're in your shoes, you never have to tie them again! Tarte was also on hand for makeup touchups and to hand out bronzer for guests to keep. I had been at the event from the time it started, so when I finally made it over to Tarte, it was totally time for a little polishing.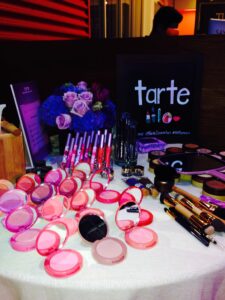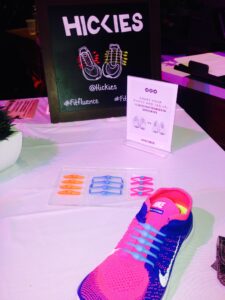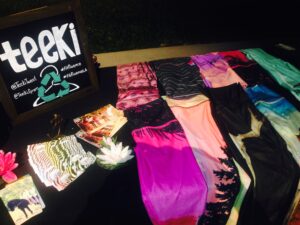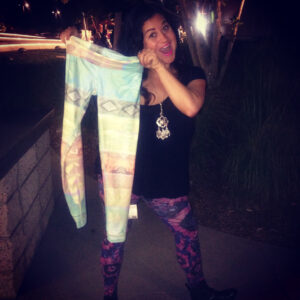 On top of all that, we walked out of the event with a Fabletics gym bag stocked full of divine treats, ranging from Neutrogena products to Jenna Hipp's top and base coat nail collection.
I'm not just saying this because one of my dear friends Jamie Stone of HonestlyJamie.com happened to co-coordinate the experience, but it really was the best event I've been to in a long time. Well done, Stonesi!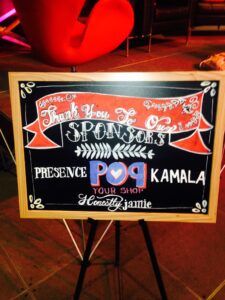 [divider_flat]