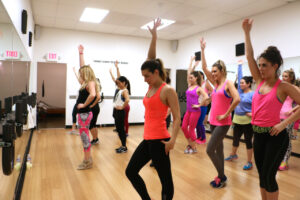 Just a week away from Coachella (a.k.a. the most important annual weekend – or two – in the life of an Angeleno), there's still time to pack a few more solid workouts in before hitting the road to body-baring desert festivities.
But whether you're festival bound or simply rooftop pool party bound, there's one commonality you share with everyone: the inability to escape summer (which has already felt present in L.A. for at least a month).
That said, after some serious investigating, I've compiled a list of the best fitness deals all over town so that you can sweat the toxins, but not the bank account in time for bikini season.
Before you scroll, just note that if you feel overwhelmed with workout options, there's always ClassPass, a $99-a-month membership that gives you unlimited access to participating fitness studios limited to three classes a month per location, allowing you to basically try before you buy!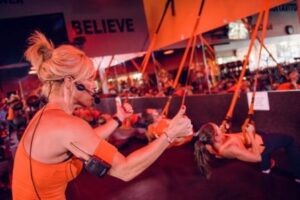 MIRACLE MILE/DOWNTOWN
MODO YOGA – This hot yoga studio offers classes that

stretch, strengthen and tone the muscles while helping to detoxify the body and calm the mind.
INTRO PACKAGE: UNLIMITED MONTH = $40!
340 S. La Brea Ave.
Los Angeles, CA 90036
323.938.5000
PURE BARRE DOWNTOWN – In the same family as Cardio Barre, Pure Barre's brand new DTLA location is partnering with Real Simple magazine to host a Beauty & Balance weekend April 18-19. Four specialized classes will be offered and swag, giveaways and prizes will be given all weekend long.
FREE CLASS FOR NEWBIES THE ABOVE WEEKEND ONLY (use REALSIMPLE code at checkout)!
740 South Olive St. Ste. 106
Los Angeles, CA 90014
323.305.7025
HOLLYWOOD/WEST HOLLYWOOD
PINK IRON – Ladies-only boutique studio offering variations of crossfit, boot camp, yoga and lifting classes.
FIRST CLASS FREE!
1106 N. La Cienega Ste. 203
West Hollywood, CA 90069
310.360.PINK
RISE NATION – Studio offering 30-minute cardio-climb experiences in which guests use

their arms and legs to move up and down a tall climbing device to the beat of music.
FIRST CLASS FREE!
8906 Melrose Ave.
West Hollywood, CA 90069
424.245.4052
CARDIO BARRE HOLLYWOOD – Studio providing hour-long, high-energy/no impact classes that combine barre work and light weights with continual fat-burning motion.
INTRO PACKAGE: 10 CLASSES = $49
6464 Sunset Blvd. Ste. 150
Hollywood, CA 90028
ORANGE THEORY – Offers high-intensity heart rate-focused interval training (30 mins cardio, 30 mins strength-training); different workout each day.
FIRST CLASS FREE!
1431 2nd St.
Santa Monica, CA 90401
310.730.1399
BRYAN KEST'S POWER YOGA – Owned by longtime yoga veteran Bryan Kest (who teaches some of the classes), this studio offers yoga for all levels and beginner-level meditation classes.
INTRO PACKAGE: ONE WEEK OF UNLIMITED CLASSES FREE!
1410 2nd St., Fl. #1
Santa Monica, CA 90401
CYCLE (BEACH) HOUSE – This brand new Cycle House location offers spin classes and boasts "the most intense cardio workout in LA," noting that anywhere from 500-1000 calories can be burned from just one session.
FOR EVERY PERSON YOU REFER, YOU GET TWO FREE CLASSES (APRIL ONLY)!
1541 Ocean Ave., Ste. 105
Santa Monica, CA 90401
310.394.4800
ADDITIONAL WELLNESS BONUS DEALS
Keep the bettering of mind-body-spirit going with some post-workout meditation (at very little cost):
UNPLUG MEDITATION – A

guided-meditation studio that offers 30 and 45-minute drop-in classes in a clean, modern and calming atmosphere.
INTRO PACKAGE: UNLIMITED MONTH = $40!
12401 Wilshire Blvd, Ste. 101
Los Angeles, CA 90025
310.826.8899
THE OAKWOOD HOUSE – Offers varying forms of individual and group yoga (h

atha, nidra, prenatal, yin and therapeutic),

reiki and intimate, powerful shaktipat meditation led by Uma Devi, who has been practicing for more than 20 years. Reiki and yoga sessions are ongoing and by appt. Group meditation is offered Monday nights at 8:30 p.m.
MEDITATION IS DONATION ONLY!
**located in Venice – call or email for specific location
TheOakwoodHouse@gmail.com
310.801.6261