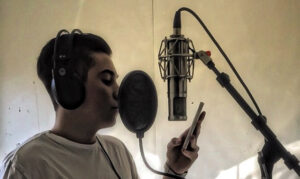 Colin Foster Taylor, better known as just Foster, has a bit of a unique situation. He's an 18-year-old white guy trying to break out as a rapper in Nashville, of all places – where names like Wynonna Judd and Faith Hill are considered royalty.
But the lyricist isn't letting obstacles stand in his way.
Foster, who says he wasn't taken seriously until he released the single, "Waves," tells skyelyfe: "It's hard trying to make it in the country music city. The Nashville hip-hop scene is not very big, [but] I want to create a new sound, a new style. I think this will come from being heavily influenced by many rappers."
Just one listen, and it's clear his flow has a striking resemblance to that of G-Eazy, who he says he admires – along with Logic and Big Sean.
But it's Mac Miller who he credits for influencing his connection with hip-hop in a city that thrives off of string instruments.
"When I was 12 or 13, I got introduced to the first rapper that I liked," Foster says of 23-year-old Pittsburgh native Miller. "I had heard rap when I was 10 or 11 and did not like it. I quickly fell in love with, memorized, and rapped Mac's music. As I got more into hip-hop, I did the same with other artists like Eminem. In middle school, my friends and I would skip P.E. and they would freestyle. I never went in, but I was very interested in trying. I was just shy."
Finally, when he was 14, Foster gave music a shot.
"I tried writing my own rap," he says. "I knew then that I had talent. I would play an instrumental from my computer and record myself rapping on it. I later decided to buy a microphone, and used garage band to record some songs. I was in love with abstract lyrics. I wrote all the time. As time went on, I upgraded mics and programs, and have taken on a more professional side of music."
The decision to go by simply just Foster was not immediate.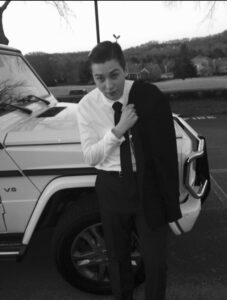 "It began as Foster The Kid, asking listeners to foster me into the hip-hop game," the artist explains. "I felt that this was too close to Foster The People, and I wanted to be as different as possible, so I changed it to just Foster, my middle name. I wanted my artist name to be real to me. I didn't want my name to be a made up name, but I wanted it to be a name."
As he progresses along on his musical journey, he wants his supporters to know, "I write every night. I have recorded more than 100 songs, but many of them, to me, are just practice. I pick out the best ones to release. I love all of my fans. We are all a team and I cannot wait to see what the future holds for us!"
(**scroll to the very bottom to listen to some of Foster's music)
5 FUN FACTS
Last time you went to a mall:
I went to PacSun and bought some gear. My favorite street wear brand is Diamond so I buy a lot of their clothes.
Last movie I watched (either at a residence or in theaters):
The last movie I watched was Hot Tub Time Machine 2. Rob Corddry is one of my favorite actors. He is hilarious.
Last person I complimented:
I probably complimented a random girl at a party last night. It's all a blur.
Last Song I Listened to by Choice:
The last song I listened to by choice is "Vitamins" by Mac Miller.
Last time I Ate Fast Food:
I ate Taco Bell today. I got two Quesoritas and a Baja Blast.
[divider_flat]