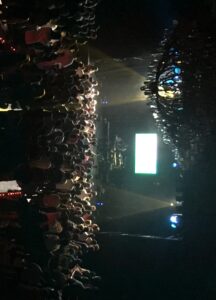 There wasn't a stationery body in the building on Saturday night, as electronic artists Elohim and Gryffin respectively took the stage at L.A.'s El Rey Theatre to a jam-packed crowd.
Elohim – celebrating the upcoming May 20 release of her self-titled debut EP, along with the recent release of her new single "Sensations," which I featured on yesterday's New Music Monday playlist – brought not only her melodic, synth-pop sound, but hit the stage in her signature oversized white coat. The Israeli beauty played a live set of a handful of her catchy tracks, including "She Talks Too Much," "Xanax" and "Bridge and the Wall," with colorful videos as a backdrop. Show-goers (myself included) were loving every minute, as this was the perfect lead-up to Gryffin's set, which went until midnight.
Gryffin had no problem keeping the dance party going, closing out the evening with his high-energy, melodic remixes of a slew of popular songs, including "Desire" and "King" by Years & Years, "Youth" by Troye Sivan, "The Middle," by DJ Snake and "Roses" by The Chainsmokers. As part of his Coming Home tour, the DJ actively went back and forth between the drums, the electric guitar and other instruments during his set to give the head-bobbing crowd a captivating performance!