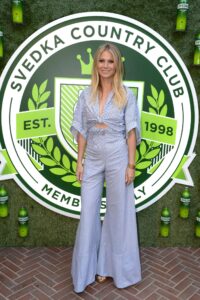 Svedka is keeping you "cool for the summer," with its refreshing new cucumber lime-flavored vodka.
The spirits brand made its latest addition official on Tuesday night, among hundreds of guests, including Gwyneth Paltrow.
All eyes were on the svelte starlet at the Svedka Country Club, held at a beautiful estate in a gated community in L.A.'s Hancock Park, where guests sipped from vodka-filled water jugs and cocktails from several bars until late in the evening.
Partygoers also played miniature golf, noshed on tray-passed hors d'oeuvres and took advantage of the incredible spacious outside area, while taking in the versatile selection of amazing tunes by the DJ, who was placed way up high above the event (party pics below!).
Create the vodka brand's signature Waterfeller cocktail on your own:
Ingredients:
1 ½ parts SVEDKA Cucumber Lime
1 part watermelon juice
¾ part fresh lemon juice
¾ part simple syrup
Instructions:
Combine all ingredients in a blender, adding ½ cup of ice last. Blend until smooth and pour into a hurricane glass. Garnish with a lemon wheel and slice of watermelon.