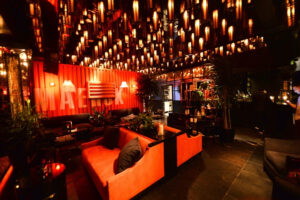 Forget everything you associate with karaoke joints, because West Hollywood's brand new Blind Dragon isn't your typical amateur singer's establishment.
I attended the star-studded soft opening of the sexy, Asian-influenced lounge last week, and it is a far cry from the divey – albeit fun – spots in Koreatown, for example.
Opened by the guys of The h.wood Group (Henry's, Shore Bar, The Nice Guy), the dim-lit hangout, which took over the Chi Lin space on Sunset Blvd. right behind Bootsy Bellows, features several rooms for groups to rent for singing their hearts out in the privacy of pals. There is also a general area with a full bar and tables.
The venue – which hosted everyone from Kendall Jenner and Cara Delevingne, to Miley Cyrus and Patrick Schwarzenegger on its VIP night – also serves up a tasty menu of pizza and dim sum options prepared by neighboring RivaBella chefs Luigi Fineo and Michael Lefnes.
Open from Wed. – Sun, 9:00 p.m. – 2:00 a.m., this is the perfect spot to stumble on over to, straight from the club!