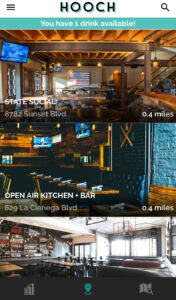 I'll drink to this!
A brand new app called Hooch allows users (currently based in Los Angeles and New York – and soon in San Francisco, Miami and Hong Kong) a cocktail per day for a total cost of less than one drink per month (yes, you read that correctly).
The app download is free, and for a mere $9.99 a month or $99.99 a full year, partnering venues offer Hooch users a drink of the bar's choice each day. Only one drink total can be redeemed each day, but with the quantity of hotspots onboard, you're bound to start discovering fresh cocktail concoctions and different places to sip them.
Not since the Los Angeles Passport program have I heard of anything remotely similar in my part of town, but unlike with a purchase of that option, Hooch (which was created by nightlife veteran Aleksey Kernes, tech industry expert Lin Dai and digital marketing entrepreneur Jared Christopherson) is valid all year 'round and beverage costs are entirely eliminated, not just discounted.
So, where did I break in my newfound drinking privileges? Pump, of course! With just a quick app glance from the manager – voila – I was whipped up a fruity, very Pump-esque martini of the restaurant's choice, hassle and cost-free.
Other L.A.-based options include Belmont, Rock and Reilly's Irish Pub, The London West Hollywood, Bar Lubitsch, The Larchmont, Golden Gopher and Shore Bar, to name a few – so get to sipping!
But as always, drink responsibly – and don't forget to tip your bartender!