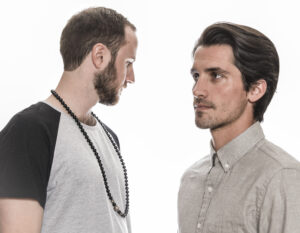 From childhood neighbor pals rapping and playing guitar (what a combo!) in Northern California to becoming an indie-electronic music-making duo in Los Angeles – that sums up Solar Heist's relationship history in a nutshell.
Made up of Jason Powers (singer/guitarist/songwriter/producer) and Justin Karcich (DJ/producer/songwriter/mastermind), Solar Heist's two members hail from Belmont, California, a small town south of San Francisco.
"L.A. is a big and scattered town, and hard to call home being huge SF enthusiasts," Powers admits to skyelyfe, despite the success he's found in the City of Angels. "[But] Los Angeles has something for everyone and pockets of awesomeness are all over if you are open to finding them."
Although they've found their niche in the ever-present world of electronic music, they aren't bringing you replicas of what you hear when you flip through your favorite Sirius stations.
"To us, it's important to keep an open mind when creating music and not try to do something that has already been done," Karcich says. "I think a lot of producers out there try to go after a certain generic sound or trend that is going on in music, rather than trying to create something fresh and unique to themselves."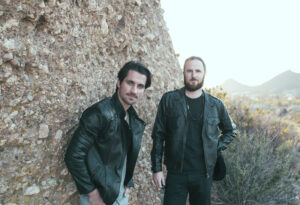 As the guys excitedly gear up for Monday's release of their latest single "Take You Home," they filled skyelyfe in on how their unique name came to be, other rising musicians they call friends, why the music scene in L.A. undoubtedly trumps that of SF's and what places in L.A. are just awesome.
Read on to learn all about Solar Heist and scroll to the bottom to hear their latest single "Wait for Love":
skyelyfe: How did Solar Heist come together and how did you come up with the name?
Jason Powers: Justin was DJ'ing in San Francisco, doing really well as half of the Designer Deejays. I was a hired gun for various signed artists in LA, playing guitar and singing b/u vox, while still performing my own acoustic material. I took a trip up to SF and we sat in Justin's tiny little studio in SF. We set out to make something weird, trippy and different, and out came our first song, "Searchin.' "
The song was picked up for a National Watch commercial and aired for about seven months or so. We didn't have a project name at the time so we scrambled to find something, throwing out every option in the English language. We decided we were both night owls and space nerds. Someone blurted out Solar Heist and right away we knew that was it.
SL: How would you describe Solar Heist's music and how did you decide to go with that sound?
JP: Solar Heist definitely has a very unique sound. Combing my songwriting and organic instrumentation with Justin's electronic sound and vintage analogue gear has helped us shape this sound and give us a nice palette of sounds to choose from. We try not to force any song to fit with any specific genre. Instead, we try to focus on what each song needs to feel good.
SL: Aside from your own music, who are you hugely into at the moment?
Justin Karcich: We just had the pleasure of catching this band Jungle when we were out at Coachella. Their live set was something special and their album has been on rotation since then. We also are into The Knocks. Their new music is dope and we're looking forward to their new album to drop. Also, there is this songwriter duo out of London called Oh Wonder. Their lyrics, melodies and harmonies are amazing. Other artists we also have on rotation are Sohn, Sylvan Esso, TV On The Radio, Big Data.
SL: How does Solar Heist's music differ from what else is out there right now?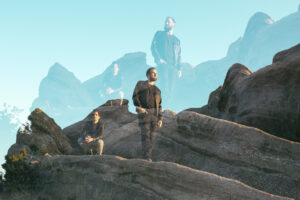 JK: One thing that I think separates our sound is that we both come from completely different musical backgrounds and when we bring both of our worlds together, we create something organic and fresh. We just try to do us and hope people will dig it. If not, it's all good.
SL: Do you feel like you've reached a point where you have a solid fan base now?
JK: Yes and we love them all.
JP: It's great to have people from different parts of the globe reach out and be excited about your music. It gives us a purpose.
SL: What do you think about L.A.'s music scene?
JK: L.A.'s music scene is great. Moving here from San Francisco more than two years ago, where the tech industry has unfortunately pushed a lot of creatives out the past five years, it was very refreshing to see such a strong artistic and creative community upon moving here. There is something for everyone at any given time and especially for electronic music, which is great for us. It seems more and more artists and musicians have been moving to L.A. recently from all over the world. It is super inspiring.
SL: What are your favorite venues to check out shows in LA?
Solar Heist: El Rey, The Wiltern, Echoplex, Hollywood Bowl, The Forum
SL: Are you friends with any fellow music artists?
SH: Yes we are. I think that comes naturally when working in music. It's great to have friends in the industry to bounce ideas off and even collaborate. Quick shout out to some of our friends' bands – Heaps N Heaps, Milo Greene, The New Peter Gabrielz and The Public Trust.
Also, thank you to our friends and musicians who helped out in one way or another on our Day Trip EP – Joe Berry, Maggie Szabo, Marcus Brown, Marcello De Angelis (DJ Birdee), Gray Bashew, Erik Groysman, Greg Martin.
SL: Where are your favorite places in L.A. to eat/drink/shop/be merry?
SH: When we aren't in the studio or taking day trips outside of L.A., we enjoy hanging out at Steam Punk, Baby Blues BBQ (shout out to Beau), Hyperion Public (for Giants World Series victories), M Street Coffee (hello to our favorite baristas if you're reading this), The Hudson, Sadie Lounge, Egg Slut, Cheebo, Rose Bowl flea market, Griffith Park, Venice, Malibu and so much more.
SL: What's Solar Heist's goal for 2015?
SH: We want to debut our live set, start touring major US cities and keep releasing more awesome music.
**In addition to the Monday release of their new single, you can also pre-order their upcoming EP Day Trip on iTunes on the 19th before it officially hits sound waves on June 2nd.
[divider_flat]