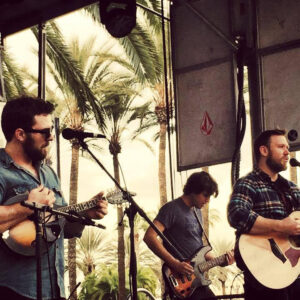 Folk-pop duo Kinsey Ry are totally set up for success. They have a stage name that flows off the tongue (it's a combo of their names – Chad McKinsey and Andrew Ryan), they've already had their song "Mirror" featured on The Young & the Restless – and most importantly, they confidently say without hesitation that they "believe" in what they do and consider themselves "good musicians" who "practice really hard."
But even so, they know their journey to mainstream success has only just begun.
"I think the biggest hurdle for anyone who works in this industry now is to get people to hear their music," McKinsey tells skyelyfe. "Once you're good at what you, how do you get people to pay attention? The internet did a great thing for musicians. It totally equalized the playing field, in the sense that you can have wide distribution in a couple of days by uploading your music to Amazon or iTunes or any kind of web service. But once that happened, the market got flooded and saturated. So, how do you get people to pay attention to you? After all that is said and done, you still need people to show up to your show and buy your records."
Adds Ryan: "If you don't have these huge budgets to market it [like] these huge labels have, it makes it a lot harder."
Luckily, the guys have something in their favor – the growth of folk in pop culture over the last few years has skyrocketed.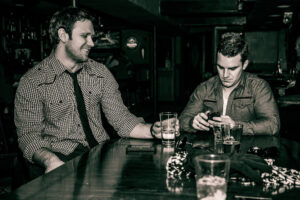 "I think what Mumford and Sons has done in the last four or five years and how they've brought that pop-folk music back into the spotlight – so to speak – it's allowed me to think, ok, you can be in a folk band and actually be popular," Kinsey says. "With the success of Mumford and Sons and other acoustic instruments, basically a folk-style pop revival has been happening. I think it really made us believe that we can play this music and it's music that we love, and people are actually going to listen to it and care about it."
Ryan, calling the turn of musical events "surprising," explains, "Before, like eight or nine years ago, you'd have these small little folk bands doing stuff, like Nickel Creek, for example. But then it kind of became a rock-type folk music. And then this rock-folk-pop developed, like Imagine Dragons. To me, it really took off from there. Maybe people who dislike folk will still like that music because of that rock-pop element. So I think that's allowed [the genre] to grow."
As for the moment, the guys, who have been playing together since moving to greater L.A. six years ago, are thrilled about this week's release of their debut EP Seasons Change.
"We just fell into this style of music and we thought, we should really write more of this," Ryan says. "So we just started putting our passion into this kind of genre."
Check out their tunes below:
[divider_flat]