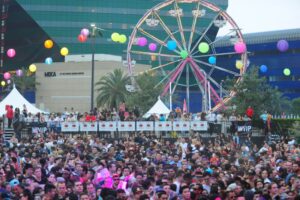 LA! Pride has come a long way since its inception in the year 2000, when it was known as LA/Valley Pride (LAVP).
But even in really recent years, the festival that celebrates the LGBT community has majorly stepped up its game, bringing on top-tier musical acts (can we reminisce about last year with Kesha for a moment?!) and attracting a majorly diverse crowd.
This year (my seventh!), which kicks off this Friday (!), is expected to bring an even bigger crowd, especially by boasting performances by big acts, including Carly Rae Jepsen, Charli XCX, Krewella and dozens of others.
But a musical upgrade isn't the only big change you can expect this year. Skyelyfe caught up with Chris Classen, president of the festival and also president of Christopher Street West, which produces the three-day event. He dished on everything we all need to know leading up to (at least what I consider) the most fun weekend of the year!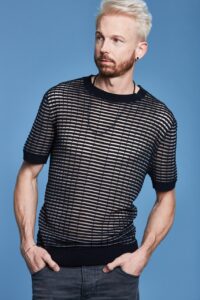 From what went into selecting this year's artists, to flashier decor and better food options, read below for five things to know about LA! Pride 2016:
1. Keep Your Phone Charged, Because There Will Be Far Too Many Photo Opps!
"World class musical acts, more inclusive programming, and interactive art experiences will be all over the festival," Classen says. "I mean, wait until you see this thing. There are so many social media moments, you'll have serious FOMO if you stay home."
2. Much More Thought Went Into This Year's Musical Lineup, But the Weekend Is Still Affordable
"This year we sat down and said, 'Ok, let's curate a lineup that's diverse, cool, and broad," Classen explains. "We wanted a mix of acts we love, but haven't been 'discovered' yet, and some names people already love. We also added acts to the schedule, so it's a really packed weekend of talent. The best part? It's only $35 per day."
3. Each Musical Act Has a Special Tie to the LGBT Community
"All of our acts are allies," Classen says. "Many are openly LGBTQ, but the coolest change this year isn't the headliners – it's the entire lineup. Never before have we had a talent list that is as diverse as our own community."
4. Classen Loves Being Behind the Scenes of West Hollywood's Biggest Annual Event
"Putting together the nations largest, ticketed LGBT event takes a year of preparation with a tight-knit team of dedicated people who become a second family to me," he says. "But during the event, few of the attendees know who I am, and my favorite part of the weekend is being able to watch the joy and sense of wonder on people's faces as they experience what we have put together for them."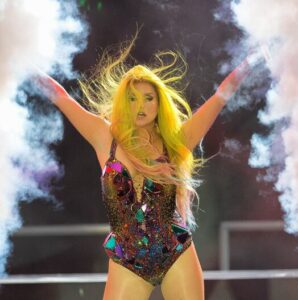 5. Kesha Left Her Mark on the Festival, Following Last Year's Incredible Headlining Performance
"Being backstage with Kesha last year was one of my favorite memories of Pride," Classen says. "She was lovely, and so genuinely excited to be a part of the event."
[divider_flat]