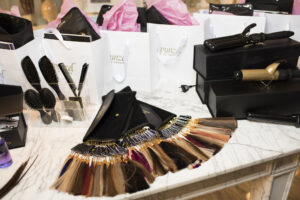 Wine, gourmet bites and hair convo with the experts – talk about my kind of afternoon!
Reps from Rapunzel of Sweden hair extensions and Mane Addicts industry hair site were on hand Wednesday at Tres by Jose Andres at SLS Beverly Hills, to discuss their hair extension holder collaboration.
Hairstylists and media filled the room while having one-on-one discussions about how to perfectly style extensions and place them into hair with an all-natural look.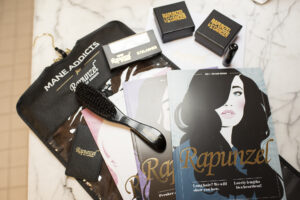 Rapunzel of Sweden, a leading extension provider in Europe, is being newly introduced to the states. The brand, which creates hair in pretty much every color you can think of, is geared toward women in their twenties, and the locks are made to fasten in easily. The brand also produces wigs, hair care products and styling tools.
I walked out with my very own full-length clip-in extension piece. I need to play around with it and perhaps get it trimmed before going public, but I am excited for the added depth I know it will bring to my hair! And for those on-the-go experiences, I also received an extension holder, which will carry a brush, curling iron, etc…, and it comes with a hanger to make the curling process easier. And to top off the ultimate girlie gift bag? Fake eyelashes, of course!
It's safe to say I'm ready to go glam for my next big night on the town!