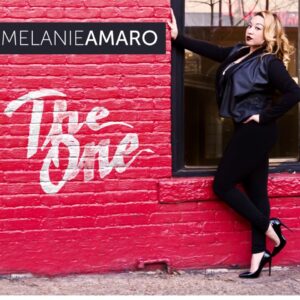 It's been a moment since the public's heard from Melanie Amaro, the British Virgin Islands-bred singer, who skyrocketed to popularity on the U.S. version of The X Factor.
Everything happened so fast for Amaro, who ended up winning season one of the Simon Cowell-hyped show in 2011. Following her thrilling feat, she was awarded a $5 million recording contract with Sony Music's Epic Records and began working alongside L.A. Reid.
But as the music mogul addresses in his 2016 memoir, Sing to Me: My Story of Making Music, Finding Magic, and Searching for Who's Next, the pair experienced creative differences – which didn't fare well for the aspiring star, who ended up falling off the map after 2014's failed scheduled album release.
Fast-forward to now, though, Amaro is back and more sure of herself than ever before. Working independently, the empowering female has an EP coming out this season, and she released her new single "The One" last month (scroll to the very bottom to listen).
Skyelyfe caught up with the former reality TV contestant, who talked about how she's changed and grown since her days on FOX's hit show, and why she would do "a lot of things differently" if she could go back in time. Keep scrolling to read what Amaro had to say:
skyelyfe: How have you changed personally and musically since your winning season? What would surprise fans most about you from then to now?
Melanie Amaro: I have changed because I have grown as a woman and all around as an artist. I've learned so much. What I think would surprise fans most would be the fact that I am doing most of this musical journey on my own without the help of a label, my own money and just people around me who care to help me with what they can and I just work hard and let the music keep me going.
SL: What have you been up to personally and professionally since your previous time in the spotlight?
MA: I have been working on being a better, stronger woman and I have explored dating a little bit [laughs]. Professionally I have never stopped working on the music. I remained in the studio and continued to work on my writing, and I even got my hands wet with a little acting.
SL: If you could do things all over again from the start of The X Factor to now, what would you do differently?
MA: I would do things a lot differently knowing what it is that I know now, I wouldn't be so naive to the business and the people in it. I would reevaluate everything and question everything, and I would've stuck to my gut.
SL: Whose career do you especially admire or want to emulate?
MA: I love the longevity of Whitney Houston's career, as well as Beyonce's. They both had a plan and stuck to it. They worked hard and got everything they wanted in the time span they wanted it. I'd love to have a career as full and prosperous as theirs.
SL: What can fans currently expect from you?
MA: They can expect to hear music from me that is 100 percent me – the music I should've been making from the jump. The EP is so exciting and I can't wait for all my fans to hear it!
[divider_flat]