Photo courtesy of Zelle
Mindy Kaling recently received news that will literally cement her status as a full-fledged celebrity. 
The Indian-American actress, producer and writer will receive a coveted star on the Hollywood Walk of Fame next year. Joining The Jonas Brothers, Uma Thurman and the late Paul Walker, Kaling's impact in Hollywood will be formalized.
But the multi-hyphenate—who initially rose to fame playing Kelly Kapoor on The Office—still grapples decades later with her celeb status and the public's opinion. Kaling opened up about her conflicting situation at an intimate Thrive Through Summer brunch skyelyfe attended in collaboration with Zelle.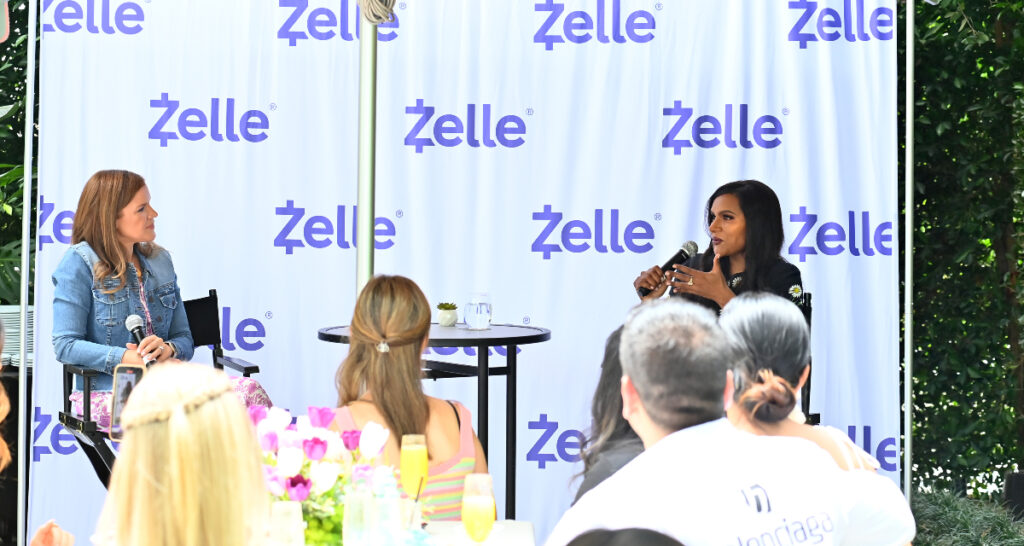 Kaling explained at The Pendry Hotel in West Hollywood that she was "so excited" about her upcoming honor. However, she went on to say, "I don't know if it's 'cause we're all on social media, but when the news came out, I was so happy but I was also bracing myself for people being like, she doesn't deserve it! I don't know what it is about social media … I don't know if you feel this way, too—like what's wrong with my personality?"
Ultimately, she's had to check herself, acknowledging that growing up there weren't a lot of Asian women with Hollywood Stars. And even more so, she says, "Growing up with Indian parents, being able to own that fact that you're famous [is something huge in itself]."
Her hard work in Tinseltown has led to her to finally accept, "Ok, I guess I am a celebrity," she said. "I guess people do look up to me. I don't want to say that and have people thinking I think I'm so great. I have to [accept] yes, I'll have a star on the Walk of Fame, yes I'm successful and should just be happy about it."
And while the humble star is "still feeling sheepish about it," there's one rewarding facet that stands out above them all: "It's very exciting thinking about bringing my kids with me and them getting to see. I'm really excited about it. It's an honor."
Congrats, Mindy!
For more excitement at hotels in West Hollywood, HERE's everything that went down at the opening of Hotel Ziggy!