The early '00s MySpace phenomenon surely had its share of flex culture, pedophiles and promiscuity—but unlike today's era of social media, it maintained an unavoidable level of authenticity. There were no filtering apps, no grade-A cell phone cameras, no ~aesthetic~ (unless you count an obnoxiously glittery HTML-coded background as such). Since its inception (and shortly thereafter demise), there's really been nothing quite like the extremely popular platform. Enter: the new MySpace.
Yep, you read it here first! The very end of 2020 introduced the World Wide Web to SpaceHey, a site that literally mirrors the former favorite. As of a little more than a month later, the platform has amassed quite a following (more on that below), and it definitely has a vibe.
Where MySpace attracted pretty much everyone, SpaceHey gears more toward an alt audience, infiltrated primarily with self-proclaimed emo users. Like, take the scenester kids from MySpace's heydey and that pretty much encompasses all of SpaceHey. This site is definitely a 'lax reprieve from the pristine perfection of Instagram, while lacking the aggressive, in-your-faceness of TikTok. I wish there were more specific search options (where are all my L.A. peeps at?!), but alas, you can freely browse around and click on pages—all of which are public—as you please.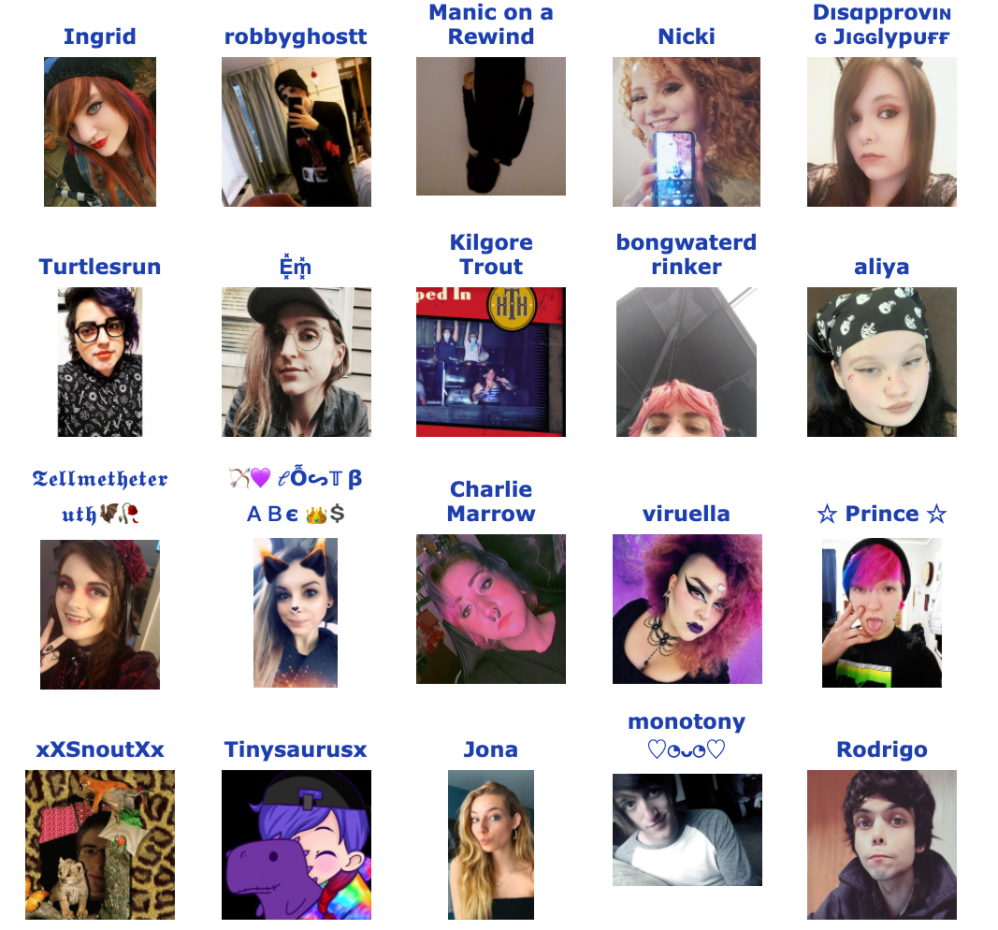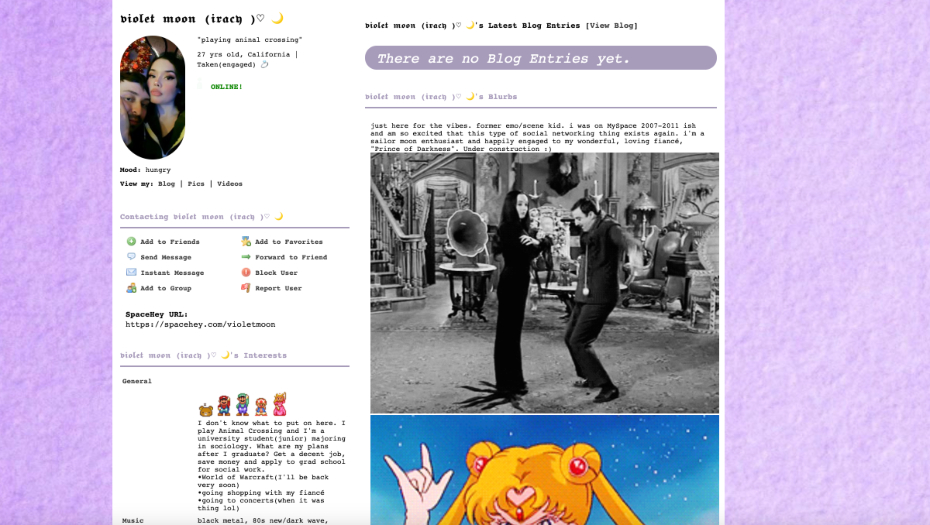 For more information on this prime piece of nostalgia come to life, I reached out to SpaceHey's founder, who goes simply by An. He's an 18-year-old recent high school grad from Germany, whose plans to travel around the world were curtailed due to the pandemic. Instead, he launched an entire media platform (no biggie!), along with a T-Shirt line. Both enterprises are under the umbrella of what he calls the Tibush project.
Keep reading for everything to know about the teenage prodigy, and the semi-revival of America's favorite gone-but-not-forgotten social media site.
SL: What inspired you to emulate MySpace when you were only a toddler during its heyday?
An: Because I was only a few years old when MySpace was at its heights, I never came to use it. However, I heard a lot about it—both from older friends and from the internet—and I was always really interested in the "old days" of the internet. I really like the feel of "old" websites.
I watched a lot of videos about MySpace and looked at a ton of screenshots and archive.org pages, and I came to the conclusion that you can't find something like this kind of social site nowadays. So that's when I decided I could try to create a MySpace-like site myself! I tried it out with my friends, and it was so cool I decided to make it public—and that's where I'm at now.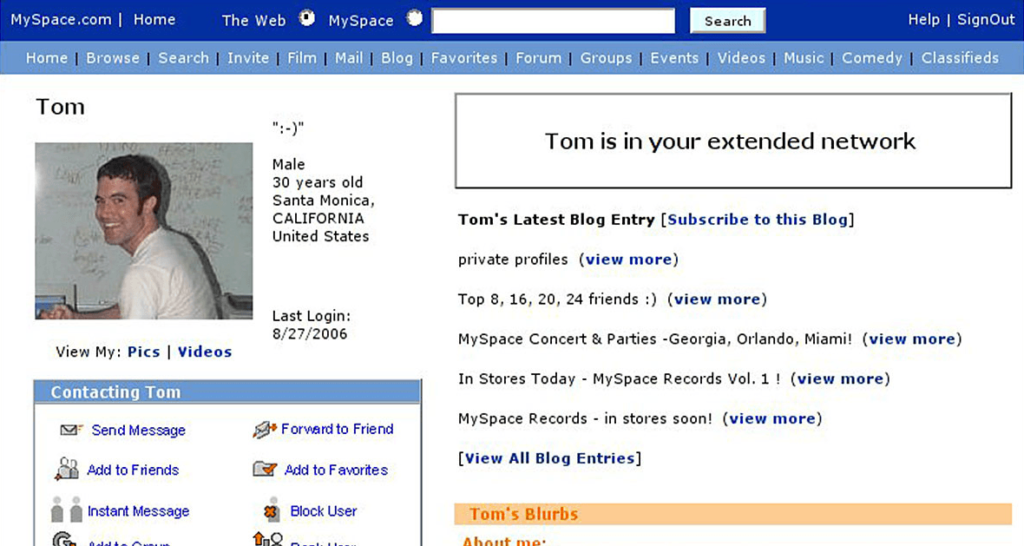 SL: What's your favorite feature of SpaceHey, and what do you think will draw users to a platform like this in 2021?
An: I think mainly the absence of an algorithm, which dictates what the user should see. I also like the ability to customize your own profile as much as you want and to make it truly your "own space" on the internet. That's not possible nowadays with platforms like Twitter or Facebook, where the design of every profile looks exactly the same.
SL: Has Tom [Anderson] or anyone else affiliated with MySpace reached out to you?
An: No, not yet. But I'd love to chat with him one day!
SL: How many users are on the platform? And are there any trends on where they're from?
An: There are around 25,000 users [as of when this article went live]. The majority are from the U.S., but there are also a lot of people from Europe and other parts of the world.
SL: How do you expect to maintain SpaceHey's longevity when people are so glued to Instagram and TikTok?
An: I hope SpaceHey gains even more popularity, not only among people who used MySpace back in the day, but also among people who never experienced such a form of social media before (like me!). The SpaceHey community is all about freedom of expression. It's one of the only social media platforms where all users can freely design and control their own profiles and the content they share.
Apart from that, users can share blog posts and so-called "Bulletins" on SpaceHey. Bulletins are a way to share content only with your friends in a non-permanent way (all Bulletins and Bulletin comments will automatically be deleted after 10 days). Because a lot of people asked for features related to music, I'm currently building music features which I will add to SpaceHey soon.
By the way, I'm open to any suggestions/feedback regarding SpaceHey.
SL: Who is the typical SpaceHey user?
An: SpaceHey is for everyone who likes to be part of a friendly community. Both MySpace experts from back in the day and younger generations are the focus of SpaceHey, and everyone who already joined seems to really enjoy it. It's a really great place to hang out online, get to know new people, and discover amazing profiles from all over the world!
SL: What are your hobbies outside of coding and computers? Where do you see yourself in five years?
An: My hobbies, apart from coding, are traveling, getting to know new cultures, meeting new friends and playing the guitar. In the future, I want to study Computer Science at a university, and I'd love to visit Silicon Valley one day!
Now that you know everything you need to about MySpace's clone, get your TikTok fix by following THESE fascinating L.A.-based users on the app!