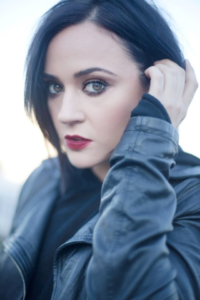 For many of us, the final days leading up to Thanksgiving are a debate over whether to serve yams instead of sweet potatoes at the dinner table during the food-friendly holiday. But for L.A.-based jewelry designer Jelena Nik, this time of year has a totally different association than it does for most.
The 27-year-old founder of unique high-end line Nik Stone spent the Friday before the holiday of thanks visiting her beloved father's grave on what would have been his birthday.
When Jelena reflects on the time she spent with her dad, a civil engineer who died when she was 19, her happiest memories are of doing the simplest things.
"I used to just help my dad around the house with little projects," Jelena tells skyelyfe of her hobby, which began when she was as young as six years old. "Like fixing things around the house or building a little table or a frame. We always had projects going every weekend and we always had music playing. It was usually The Rolling Stones or The Beatles or Led Zeppelin."
As Jelena continued to mourn her loss over the years, she finally decided to make a business out of her father's legacy, using money she made acting to invest in a jewelry line devoted to her favorite childhood pastime and her favorite band.
"Almost two years ago, I was at my mom's house," she says. "She still lives in the house that my dad built in Woodland Hills. I was getting a few of my things out of the garage and I found my dad's old toolbox and it just reminded me of him. I had this idea to take a piece and try to make jewelry out of it. I couldn't get the wrench to look like a bracelet, so I took it to my grandma's jeweler and asked him if he'd be able to shape it into a bracelet. He was able to, and then it just kind of took off!"
But these pieces are no ordinary tools.
"It is edgy," she says of her collections (she just released her second a month ago) that include items that go up to $3,500. "The main target I want to hit is the rock lovers. Living in L.A. and New York, everyone's got a little bit of rocker to them. The reason why I did the black diamonds [in my collection] is because my dad is my rock, my stone, and then The Rolling Stones. And the black is the toughest and most rare diamond and I'm obsessed with the color black. I wear all black every day."
The actress, who appeared on Modern Family earlier this year, has come a long way since officially launching her line a year ago.
"I passed my goal, which was getting out of just America," she says. "I'm now in London and Dubai. That is pretty neat. [My dad] was very business-oriented. He started his business from the ground-up, which my mom took over. He always wanted to get into fashion and I always wanted to be an actor. So it's funny how it worked out. I think he would be very, very, very proud."
But there's still much more to do.
"One of the companies I'm very inspired by is Chrome Hearts," Jelena says. "I love everything they have done and everything they are doing. I would love to eventually branch into clothing and other types of accessories. I would love to start working with leathers and creating cool wardrobe pieces. I'm not quite there yet. I would like to have my own shop, eventually. Right now I'm just selling to stores. I would like to be in Maxfield. I would love to be in Barneys, H.Lorenzo, Fred Segal."
But she doesn't necessarily want her line everywhere.
"I want to [keep things] boutique-y," Jelena explains. "I think Barneys is one of the bigger stores I would go to, or like a Bergdorf. I can't really say I don't want it in a Nordstrom or a Bloomingdales, but I would like to keep it more underground in high-end boutiques, as opposed to just [producing] pieces that everyone has."
And it probably goes without saying, but Jelena's ultimate goal?
"The Stones are my all-time target," she says excitedly. "You know how Keith Richards wears that skull ring? If I can get him in a piece of Nik Stone, I would just be the happiest person ever!"