One of the obvious perks of the pandemic is being at home to slather my skin in face masks each day. And what an especially good thing because it's made way for me to try a new 50-minute facial from Nourishe Organics.
Where most face masks can be applied and rinsed in 20 minutes tops, this two-part, at-home process takes a wee bit longer. But it's also no ordinary formula. To begin, it's a Dragon's Breath facial ($121). I mean the name alone had me instantly intrigued. Secondly, it has a very distinct, dominant scent (more so than any product I've ever used). But hey, the worse (ahem, earthier) the aroma, the better the results, amirite? Lastly, Nourishe Organics as a whole contains no water, preservatives or fillers in any of its products, and it's completely vegan.
I joined the brand's founder Kristin Bauer during her digital demonstration of the facial a month ago. After connecting more with the Florida-based beauty line, I couldn't wait to get my hands (face) on the products she kindly sent my way (which also included a Shungite and Diamond Beautifying Daily Face Wash – $63).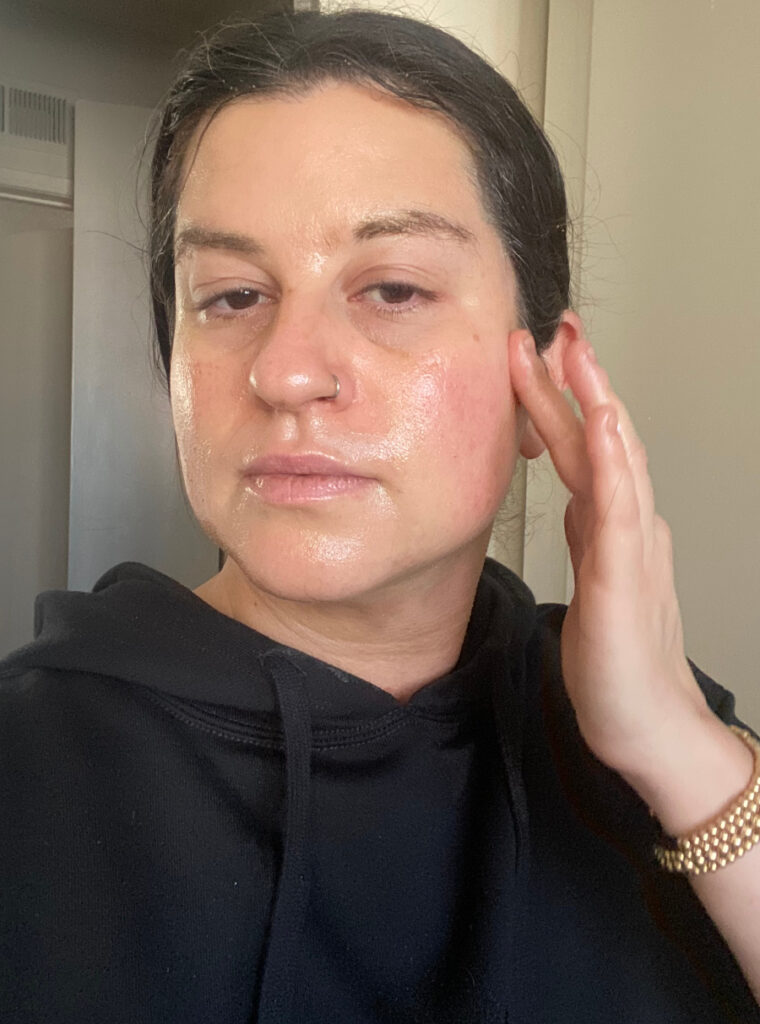 After seeing immediate results from each of my four uses thus far of the facial, I had many questions for Kristin. One of the main topics she emphasized during her demonstration was the lack of H20 in any of her products, and why water in skincare can actually be a bad thing. She also discussed how she got to a place where she feels totally comfortable without a stitch of makeup and why she swears solely by plants. She elaborates on all of that and a whole lot more in her Q + A with skyelyfe below!
skyelyfe: How did Nourishe come to be, and what did you do professionally before launching this brand? Where do you currently reside?
Kristin Bauer: I've been in the skincare industry for 21 years already! Immediately after completing my training, I began working with plastic and reconstructive surgeons. I was originally interested in working with burn victims as I'd spent time in a pre-med magnet program throughout high school, volunteering in the physical therapy department at a hospital. I saw plastic surgeons burning people on purpose for beauty, so my interest in studying DNA repair and telomere extension drove me to want to understand skincare and burns within the beauty industry.  
Nourishe was born in 2004 after working with a fantastic plastic surgeon doing pre- and post-op skincare. I began doing healing work for medical issues I'd struggled with since I was a child. Through strong plant therapies with indigenous healers in Peru, I found that plants were much more powerful than I had ever understood. 
I was also cured of infertility with the plants, and when I got pregnant I had a big wakeup call in regards to how to give my baby the healthiest start in life. It was at this time that I really began to read labels of all my personal care products, and I had counted over 383 chemicals in my shampoo, conditioner, body wash, perfume, deodorant, face products, and now the belly cream I was slathering on every day. This was all before 9 a.m. I had the best bathroom purge ever and began my investigation into organic skincare. 
I went to work on my clients and realized I didn't want to use chemical peels and synthetic products on them. I wanted to use plants that had high nutrition and power as I had seen utilized in the jungle! I began research and development in my kitchen, and started formulating with what I like to call Indigenous Herbalism, which are techniques deeply connected to old practices of medicine people that studied from the earth.
I currently reside in a small town just North of Palm Beach, Florida called Hobe Sound. I simplified my life four years ago when I moved out of a bigger town. I now live in a tiny home with my daughter that we decorated with tons of color, decoupage and chandeliers we made from flowers. It's very fun and vibrant, which is inspires me on a daily basis. I'm definitely inspired by beauty and love to create from a space of unique and individual beauty, not defined by trends, but inspired by heart and soul.
SL: What exactly is Dragon's Breath in skincare, and how did it get its name?
KB: In many ancient cultures, dragons are a symbol of power, wisdom and vitality. On one of my trips into the jungle, I was studying a resin called Sangra de Drago (dragon's blood) and learning about the ancient culture around animals actually guiding humans within the indigenous healing world. When I came back into the country I told my daughter what I learned, while giving her an at-home facial. She looked at my face covered in the greenish-black product, blew on my face and then proceeded to tell me she was a dragon blowing on me so that I could be a strong dragon like her. It was so cute, so I had to name the product after her playtime with me.  
I consider aging to be a combination of a lack of repair and a lack of energy. So, Dragon's Breath helps solve the first problem by supporting the repair mechanism of the skin. Daily, we're around toxins that affect the health of the skin. Herbs and coconut charcoal in the Dragon's Breath bind to positively charged particles in the skin, drawing them out before they can cause damage. At the same time, they leave minerals in the place of the toxins to prevent further oxidative stress. 
SL: What are the benefits of using Nourishe's Dragon's Breath at-home facial, and how does it work? How often do you recommend using it for best results?
KB: Dragon's Breath and O22—pronounced O 2 squared—make up the At-Home Facial Kit. Essentially the first part of the process, Dragon's Breath, is going to detox the skin. O22 solves the second aspect of aging, being a lack of energy, by using an active combination of herbs, roots, mushrooms and fatty acids that harmonize to mimic energy in skin cells. We combine this with berries, seeds and flowers, known as S.A.O. or super antioxidants. And it's through this combination that we effectively create oxygenation or energizing of the skin. This experience creates valuable energy for the skin to keep it healthy, glowing and full of vitality.  
I recommend using the Dragon's Breath and the O22 approximately twice a week when you first start your at-home facial process. Once you feel like your skin is about 50% improved, then I recommend focusing on once a week. I also recommend using this kit specifically when you're doing a lot of traveling or if you've been eating a lot of foods that might be stressful on your liver, or you're not getting enough hydration.
The benefits of this kit are obviously going to be detoxing and regenerating the skin with the oxygenation phase. This benefits the skin by detoxing pores (which allows them to tighten), reducing pigmentation and brown spots, balancing oil production, smoothing fine lines and improving skin color and circulation. It takes about five weeks of use to really see the skin healing, but often I have clients tell me that they see a difference after the first time they use this kit.  
I recommend that if you have acne, first you balance the acne on your skin before using this kit because the detox phase can be very strong. And you want to make sure you have normalized how the skin functions before you start the detox phase. I also recommend you're at least two weeks into an organic skincare process before you add the at-home facial kit to your routine so that your skin is ready to receive this high-level nutrition. 
SL: You've mentioned the downsides of water in skincare. Can you explain why a high concentration of water in skincare is actually a bad thing? And also, why shouldn't people get water anywhere near the at-home facial kit?
KB: Water is commonly used as a filler in skincare formulas. It's cheap as an ingredient, and when it's whipped or blended with oils, it makes it look like you're receiving a lot more product. Also, adding water allows for mold and bacteria to form, which means there need to be more preservatives added to counter this effect. I prefer focusing on only what the skin needs to be the highest nutritional quality, instead of adding fillers. One of our philosophies in our formulations is that we don't add any fillers to any of our products—just pure, potent raw materials.  
Also, the skin is an oily organ that requires oil to lubricate the cellular function of taking in nutrients, detoxing waste and creating its own natural and soft oils for protection. Water in products and over-washing skin creates an imbalance in the necessary oily mechanisms of the skin. This doesn't apply to handmade soap though, because water is mixed with oil to make soap and this is how it lathers and cleans the skin. 
So, being water-free is recommended for your serums, moisturizers, creams, and balms. And just following this one tip for your skin will actually start making a big difference in your skincare goals. Especially for oily, acneic and greasy skin, despite what most people assume, proper oils are needed to heal.
SL: What are your best winter skincare tips?
KB: Internal circulation is definitely my No. 1. By getting more blood-flow to your face, you reverse the aging process. With this practice, you get all that deep, nutritious blood circulation all the way to your scalp and back towards your heart in a reverse direction.
Then we want to talk about external strength. A lot of old skincare philosophies suggest using scrubs, acids, exfoliants, washcloths, brushes and other tools to take off your outer layer of skin. I definitely do not agree! I teach that you want to make the outer layer of your skin stronger and healthier by using products that encourage the skin to build up its own natural oils for protection. Make sure all of your products are sans acids or chemicals that destroy or break down the outer layer of the skin, and don't use any brushes or washcloths. 
Next is deep hydration, which is making sure you're getting a lot of oils on your skin and that you're massing them in. Make sure your serums, creams and balms don't have any water in them. Massaging them in allows your products to go a lot deeper and create better absorption of nutrients.
You want to get more nutrition in your skin, and this is by making sure you use products packed with plants and super nutritious ingredients. For Nourishe, one of our philosophies in our formulas is we use whole plant complexes—so we don't extract different parts of the plant to give you vitamin C or vitamin A. We actually use the whole plant and we don't waste any part in the formulation because there are aspects of the plant that allow your skin to use the nutrients much more powerfully.
Next, I suggest adaptive skincare, which is really fun because this is basically taking plants that naturally can withstand very cold temperatures, and using these plants as part of your routine. Peony, catmint, arctic rose, pansy, calendula and geranium are some of my favorite flowers for winter, and we put those in a lot of our products. Also, our Earthy Balm is really a must-have for winter, as it's an outdoor extreme cream that creates a beautiful seal of hydration because we use waxes from different leaves to create a barrier of protection on your skin all day.
SL: You've mentioned you don't wear any makeup. What are some practices that have led you to go makeup-free? And why have you chosen to go that route?
KB: Being makeup-free is a fun practice that I teach. I'm a single mompreneur, and keeping my time focused on what's most important is a daily practice of mine. Also, I think it's great to feel so confident in my own skin that even at an event, my skin is perfect on it's own! I do sometimes wear eye makeup (eyeliner, shadow and/or mascara) for events or photoshoots, but I haven't owned a spec of foundation, concealer, powder or anything that covers my face in over a decade. 
My tricks for radiant skin without face makeup are: I use the Kakao Hydra Mask and Mid-Day Floral Spray a few hours before a big event, I use Earthy Balm (which is an outdoor balm designed to protect your skin) as my moisturizer because it has a lot of plant wax in it that seals in moisture and reflecting light so I look extra dewy. Also, using the Voluminishe regularly for a few months will give more color to the skin because some of the roots in it create the look of permanent suntan effect on the outer layer of skin.  And lastly, but most importantly, I always do a deep tissue massage on my skin to release any tension or stress, and to deliver deep hydration.  
SL: Is there anything else you want to share about Dragon's Breath, Nourishe or skincare in general?
KB: Remember that divine beauty is a life force that shines from within. It's developed and found through the love that we have for ourselves, and these magnificent bodies we've been gifted. I'd love for us to pass on to our children the knowing that a blemish or line can never take away from our beauty. Finding our beauty is a process of learning that these marks are messages from our bodies, and thus responding to our bodies in a healing or nurturing way, allowing for remarkable consciousness to begin to blossom.  
My favorite active practice to do to support my own skin health is the At-Home Facial Massage, which doesn't have to be done just with the At-Home Facial Kit, but any organic skincare product that can be rubbed in.
Full At-Home Facial Video:
For more of my recent skincare faves, click HERE for my beauty and wellness 2020 holiday gift guide!