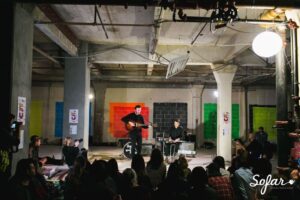 Since launching sessions in Los Angeles, Sofar Sounds' waiting list, donation-only experiences have boasted some of the first live performances by once-unknown radio acts including Saint Motel, Family of the Year and Meg Myers – along with a couple of personal favorites Gardens & Villa and Pompeya.
Just last week, the music organization (which stands for Songs from a Room, and originally launched in London in 2009) embarked on its five-year L.A. anniversary with an extra special four-act celebratory show in a spacious, colorful warehouse in Downtown's Chinatown, where photographer Elli Lauren was on hand to capture the magic of the intimate evening.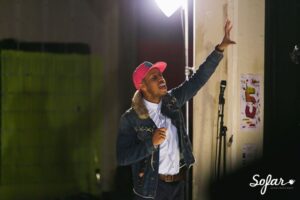 With walls covered in colorful promotional posters from shows past, beer and wine-sipping guests took in the diverse sounds of four different acts: Eagle Rock Gospel Singers, Lime Orchard, Pell, (whose voice resembles John Legend) and Jake McMullen (whose melody resembles that of Bon Iver's music).
To learn more about Sofar Sounds and to sign up for a hopeful shot at attending one of their exclusive sessions, click here!