Remember the good ol' days when showing up in a Town Car somewhere made you feel really, really important? Well, then Uber came along and gave that VIP feeling to anyone with a credit card.
Similarly, I remember attending one of my first ever gifting suites and receiving a gift card for a (gasp) complimentary at-home spray tan from Sevin Nyne. I mean, only celebs received such glamorous at-home services, right? Well, now, like as in the case with Uber, just a simple cell phone app tap and valid credit card will have you receiving star-like perks.
As of Sept. 18, L.A.'s first full-service on-demand beauty and wellness application was made available to the masses. Everything from vetted personal trainers to masseuses, hairstylists, manicurists and spray-tanning specialists can show up at your doorstep with the click of a button on PRIV, an app (short for PRIVileged) founded by Joseph Terzi and Morris Sutton. Like with Uber, available service providers pop up on a screen with their current rating out of five stars, along with how many minutes should be expected until their arrival.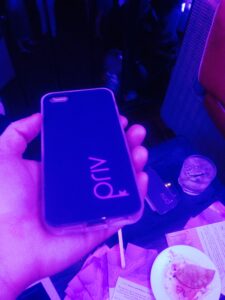 I was on hand last week to help celebrate the launch of this innovative product at the ultra chic Petit Ermitage hotel in West Hollywood. Before I got to the event, my close friend (and hairstylist) Erick Orellana gave me a glamorous updo from his apartment, and then I was off to the party. Once I arrived, I met up with a bunch of friends and I was fed with an array of healthy bites catered by the hotel. Guests at the fete were also treated to complimentary manis and Priv-logoed nic-nacs, including fans (it was unbelievably hot outside) and iPhone cases. In between trips to the open bar, people crowded the massive candy station, which was purple-themed to match the shade of the brand's logo. M&Ms, saltwater taffy and lollipops were available in great quantities for guests to scoop into baggies.
Upon exiting the event, partygoers were given gift bags with additional logoed memorabilia, along with a gift card for $20 off a Priv service. Sans the overbearing heat, this was a night nicely done.
Will you try out this app?