(via Unsplash)
Remember when swiping to find your soulmate was a foreign concept? Welp! That's way old news.
Enter: dating in the era of social distancing (*cough* FaceTime dates). As the coronavirus has everyone quarantined, we're becoming much more resourceful with how we "get acquainted" with people. It's like we're all adults living (hopefully only temporarily) as teens, refusing to communicate by any means other than video chat—dating included.
I had my debut bout with the 2020 era of digital dating on the first official weeknight of isolation. A happily married friend of mine has a flowing pool of singles she knows through a variety of avenues. She's set me up on dates with her friends before—ones in which she eyed as potential matches. This time, however, she said from the get-go this wasn't someone she necessarily saw me running off into the sunset with. More time on her hands means more energy to arrange things like this apparently, and she thought it would be fun to set some of her friends up on very random FaceTime dates.
After a little bit of thought, I agreed to it. Honestly, what do I have to lose? There aren't really any ways to meet new people at this very moment, and, for lack of a better word: YOLO. Next thing I knew, my friend sent me *Evan's phone number, along with a reminder to "dress accordingly" and "have fun with it!" I chuckled. Thanks, coach!
Evan's number had a 503 area code, which was perfect because I went to school at the University of Oregon, so if all else failed, I could ask about… living in Oregon? Boring. But anyway, I made it through my typical WFH office day, but had angst all throughout. I texted a couple girlfriends about my jitters, while nervously getting ready (trying to look nice, but not too nice). Time was ticking. Cue the stress.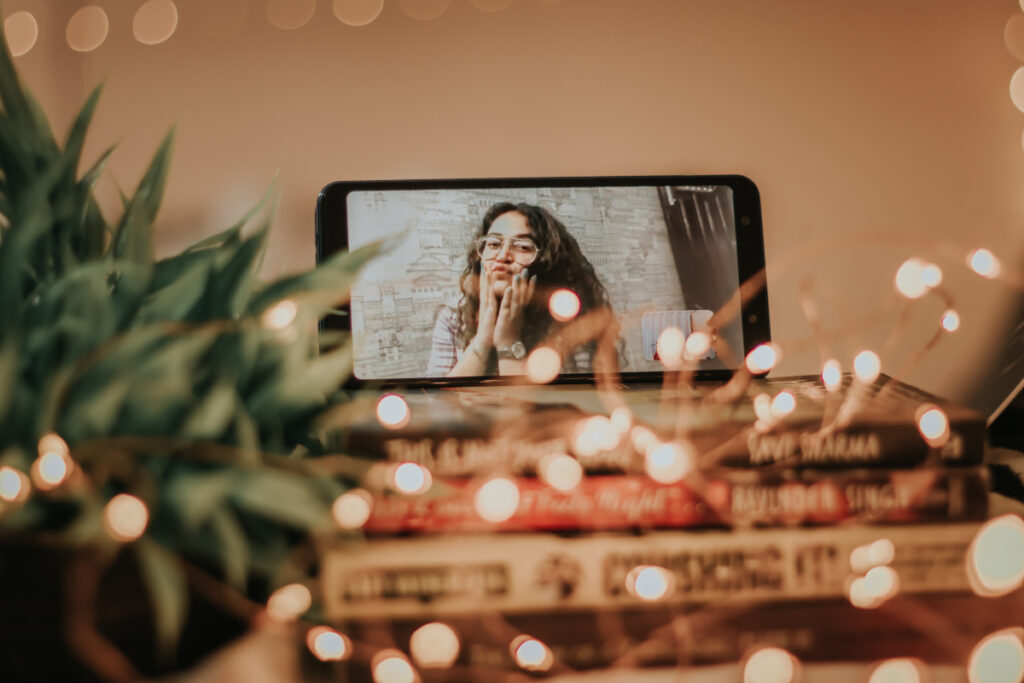 On top of that, I did Whole 30 all of March, so there'd be no White Claw to help ease tensions. When 7:29 approached on my phone, I totally felt like I was calling a potential employer for a job interview. I've gotta be exactly on time, I thought.
The scariest part of this experience is those three insanely long seconds where it says "Connecting…"—you have so many thoughts running through your head. What will he look like? How should I hold the phone? Should my hair be in front of my ears or behind? Can he see my stray greys through the screen? It's also important to note that I despise video chats and avoid them at all costs. With the exception of an occasional mandatory work Zoom, you'll rarely spot me sitting in on these now-common gatherings.
At long last, our faces both made their way to the screen. I was greeted with a jolly, "Hi!" in that "I-know-this-is-awkward-but-here-we-are" tone. While yes, indeed awkward, Evan seemed gentlemanly and could hold a conversation. We shared some laughs, but as FaceTime would have it, sometimes responses and reactions are delayed or have weird echoes. Additional awkwardness.
There's really only so much you can do on these first-time FaceTime dates. Especially sober. And you really only get a pixelated, headshot-version of the person you're talking to. Our convo didn't hit any lulls, but after a while, we both wanted to get to the rest of our evenings. Before I knew it, an hour had gone by. I was shocked! We ended with a lighthearted mutual agreement to hop in the kitchen and whip up a home-cooked meal—one we each sent to each other via text when finished.
I was so relieved when the call was over. Not because of anything he did, but because these things are scary and uncomfortable. Body language is 55% of communication, so there was a lot left undetermined without it. That said, the discomfort was just what I needed. Sometimes (a lot of the time), my nerves get the best of me and I play things too safe.
In case you're wondering, we agreed we'd meet for a drink in person once we're set free from quarantine. To be honest, as my friend predicted, I don't think Evan and I will be a romantic match—but, meeting someone for drinks who I don't have a lot in common with will be that much-needed step out of my comfort zone!
*name has been changed to protect privacy
Looking for more dating content? An expert provides tips on successfully dating in L.A., HERE!