Despite a week of rain (yes, I love it, but sure wasn't expecting it!) and now even heavy wind (love it even more!), it is, in fact, no longer winter (cue the tears). It is officially springtime.
That said, with a new season comes new trends, new products, new must-haves, new everything—especially moving out of the colder months.
But winter, spring, summer, fall—there are some makeup and beauty products I feel compelled to wear all year 'round.
Regardless of the color or coverage intensity, I tend to have my regular rotation of items I consistently use, and during spring is no exception. Although winter and spring trends traditionally differ, I prefer to stick to the tried and true.
Keep scrolling for 9 items you can see sprawled out on my makeup counter at any given time of year (and find out why some of these more wintery shades can totally fold into springtime looks)!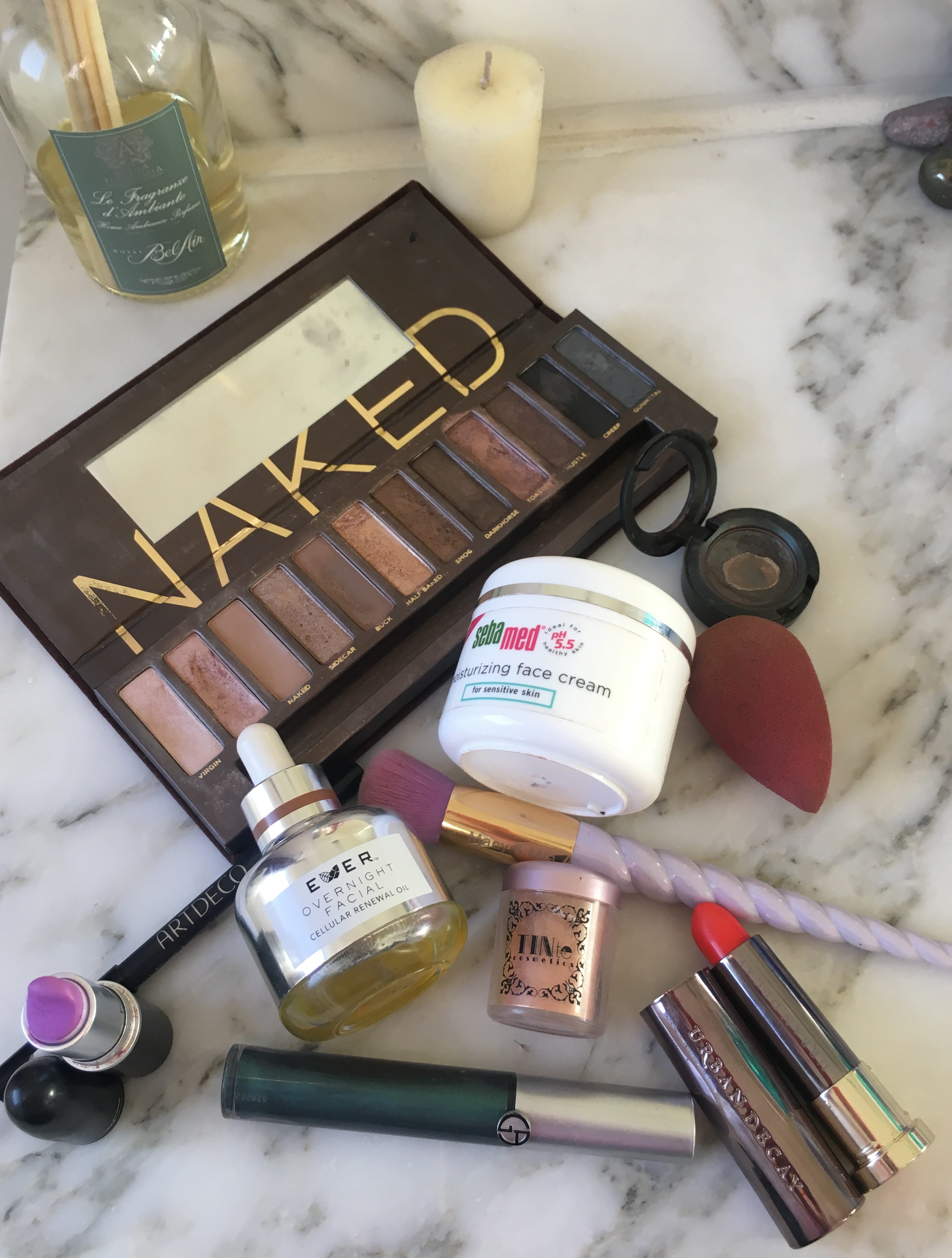 1. Sebamed's Moisturizing Face Cream for Sensitive Skin ($14.99) – Regardless of the time of year, dryness is definitely my biggest skin qualm. Even just one slight application of Sebamed's magical product and my face stays hydrated all throughout the day. It's rare I find a product that can maintain moisture on my skin, and this does just that! Plus, it's super affordable, so why not?
2. Ever's Overnight Facial Cellular Renewal Oil ($88) – When I first read the words "overnight facial," I was like, yeah, okay. But no joke, you apply a few droplets of this little guy before bed, and you wake up with minimized blemishes and softer, more hydrated skin.
3. TINte's Sun Kissed Universal Mineral Powder ($10) – This item is by far the biggest hidden gem of the bunch. I've been wearing this product for years, and once the highlighting trend came to the forefront, I messed around with every big-name brand I could think of, but found myself coming back to this right here. It's so inexpensive, it comes with so much product, it's all natural and it can be used as eyeshadow, blush, lipstick, you name it! Most importantly: It works! This provides the same highlight effect as Becca's products, so why not save a little money and help a growing brand?
4. MAC's Lavender Jade lipstick ($17) – This is by far my favorite find of 2016. I wear this shade to the grocery store, to dinner, to work, to play. You can almost always expect to find me wearing this. Not only does the color bring me endless compliments, but it seriously goes with everything, it comes off easily if need be, but stays on pretty strong otherwise. I can't speak this product's praises enough!
5. MAC's Club eyeshadow ($16) – When I want to spice up a traditional brown, this is the shade I wear. For a more brown look, I wear it dry, but I go wet when I want the iridescent green to show through. I've been wearing this shade for more than a decade and it is a true classic. Green and brown are always in season.
6. Urban Decay's NAKED eyeshadow palette ($54) – I received this palette as a holiday gift from my friend Cass' parents a few years ago, and for the longest time, I had it tucked away amid other unopened makeup items (who needs another set of browns, right?). But last year, I decided to give it a whirl after obsessing over the palette's sister polish set. And, well, I can't get enough! The browns are vibrant for going out and easy to tone down when making my way to the workplace—so basically a win-win all around!
7. Urban Decay's Crash mega matte lipstick ($17) – If you know me, you know I can't leave the house without a bold lip. Okay, maybe for yoga (I never wear makeup when I work out), but pretty much any other time, me and a vibrant lipstick go hand in hand. Although I do love a bright pink (here's lookin' at you, NARS Schiap) and a pastel purple (see No. 5), I get the most compliments when I wear a striking orange. I used to be obsessed with all things Kat Von D when it comes to that hue, but lately, I can't get enough of Urban Decay's Crash.
8. Armani Beauty's Emeraude eye tint ($39) – If your eyes need a pop of, well, anything, this is the hue for you! It's a liquid-to-solid formula and can be worn lightly for some dazzling daytime color, or go on bold for nightwear. I've had this for a year, and I know if I want to make a statement on any given occasion, this is the magic trick!
9. Artdeco's Long Lasting Eye Kohl ($11.50) – When it comes to eyeliner, if I'm going to wear it at all, it needs to glide on easily and really make a statement. I typically steer clear of the product during the day, but at night, Artdeco's Long Lasting Eye Kohl never smudges and takes two seconds to effortlessly apply.