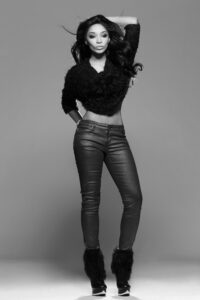 Darnaa (pronounced Dar-Nay-Ya) is one more artist to add to the list of must-see talent during SXSW's music portion, which kicked off on Tuesday.
The Sacramento-bred dance-pop artist, who performed at events during the festival last year as well, had showcases on Tuesday, along with today, tomorrow and Saturday at the Voodoo Room in Austin, Texas. Excited to promote her latest single "Surv!val," the rising star has zero pre-show jitters.
"I don't really get nervous," Miguel's former tour mate tells skyelyfe. "I'm just really pumped to perform my music and show people what I've been working so hard on! I'm really proud of 'Surv!val' and it's such a personal song for me, so I just want to share it with all of my fans. I'm excited to discover new bands and artists that are not mainstream yet. I love seeing a great artist and watching them obtain the great success they deserve. It's very inspiring to me!"
Read on to listen to "Surv!val," and also find out why the song means so much to the singer, the one characteristic she wants to change about herself, what it was like working with "crazy" Travie McCoy and much more!
skyelyfe: You've said "Surv!val" is about the breaking up of any kind of relationship. Even though you didn't write the song, does this song hit home for a relationship in particular for you?
Darnaa: "Surv!val" is a song my drummer wrote, but it became something that described my life. The lyrics are everything. It is a song about people coming together and then breaking up. Not just romantic relationships, but all different types of relationships. At the time, it feels like it is the end of the world and you are alone, but you survive. I survived, and that is something I needed to go through. Everyone has a survival story of a past relationship, and this song is for them.
SL: Who are some of your influences?
Darnaa: My influences are constantly changing. Currently it is Maroon 5, I love them! Also James Blake. Everyone influences me: actors, people on television – not only musicians, but the people who write and create fantastic music. My influences go way beyond musicians.
SL: Is there a particular artist big right now who you think is doing everything right and totally nailing it?
Darnaa: Sam Smith! All the winners at the Grammys! All the winners I would say are nailing it.
SL: What are some things you want to avoid if you become a big star?
Darnaa: I want to avoid having a bad reputation for being late. I'm late all the time, but I would rather be known as the girl who's late, but when she's here, she really nails it.
SL: You've worked with and toured with a handful of big names. Who was your favorite?
Darnaa: I loved performing with Travie! He's just so crazy and out there. He's a big ball of energy and it's a great contagious feeling to have around.
SL: Who do you most want to work with?
Darnaa: James Blake, hands down.
5 Fun Facts
Last time I splurged: I was in London for two weeks and boy, the shopping there is amazing! [I'd go to] Topshop where just as I was about to leave, I would see another thing as I was passing the register that I had to get! I don't even regret it because I get so many compliments on those clothes.
Last time I ate too much: I was in Utah at Sundance and after I performed, we went out to eat and I had the best meal! Plus I even got dessert because you need to get dessert!
Last website I visited: My email.
Last time I cried: Last year sometime, it was a while ago. I think in October. I was fighting with a couple of people over a disagreement.
Last photo I took: Yesterday! I wanted to show off my new hair!
[divider_flat]