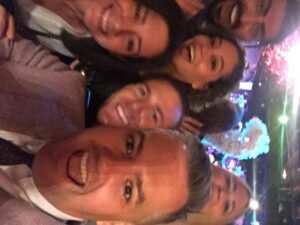 The Abbey Food & Bar celebrated its 25th anniversary on Tuesday night, and as one would expect, it was no shabby affair.
The West Hollywood hotspot brought in TV personalities – including Ross Mathews, Candis Cayne and Carlton Gebbia – to fete the momentous occasion and honor the club's founder David Cooley.
V.I.P. guests were invited to an intimate pre-party, and were treated to many of the venue's delicious specialties (lobster rolls, burgers, Philly cheesesteaks ::drool::), an array of vodka cocktails, champagne and a full orchestra (this was no joke!).
Once the private, two-hour extravaganza was finished, the general public was invited to take photos on the red carpet and make their way into the packed space.
Cheers to an icon of Los Angeles, and here's to 25 more great years! See you in a couple of weeks for L.A. Pride!