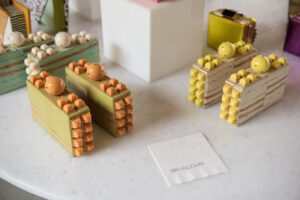 In the competitive world of fashion and accessories, it's a typical designer's goal to do something groundbreaking and outside of the box. Well, Furla's former creative director Tonya Hawkes has gone above and beyond to do just that with her signature namesake collection of three-dimensional statement clutches.
The mind-blowing pieces of colorful art were on full display at last week's Bri Holloway Presents: Tonya Hawkes Press Preview and Trunk Show, held at the picturesque Santa Monica home of BJ Dockweiler.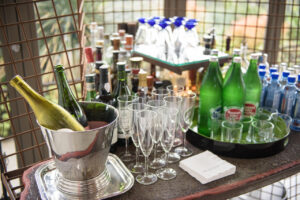 The event, which presented Hawkes' SS15 collection, celebrated the exciting addition of the designer's products to luxury e-commerce site BriHolloway.com.
"When I first saw Tonya's bags, I thought, I have to have these," Holloway tells skyelyfe. "Bri Holloway is all highly curated, head-turning, high-end luxury goods, but all emerging brands around the world. The reason my company was founded was because I come from Barneys, and one thing I've noticed over the course of the last few years is that the market is really saturated with the same products everywhere. You go to Nordstrom, you can buy a Givenchy bag. You go to Barneys, you can buy the same Givenchy bag you can buy at Neiman Marcus. So, where's the differentiation online?"
Only into her second season, Holloway is proud to also showcase Sarah's Bag, with Second Day and Utzon coming on shortly.
"It's an instinct for me," she says of selecting merchandise to sell. "You just know it. It's a feeling. It's like, I have to have this. I've never seen anything like it in the world. I need to know more about this brand."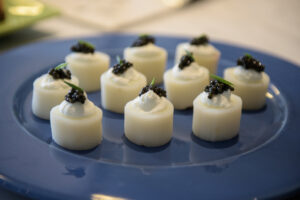 When it comes to the inspiration behind Hawkes' work, it is isn't fellow designers from whom she gets her visions – but rather the environment in which she is surrounded.
"I love architecture and I love art," Hawkes, who made a rare trip to Los Angeles from her home in Italy, explains to skyelyfe. "I love art history and quality products – things that are made at the turn of the century. I have visual references and I'm inspired by quality and longevity – timelessness, purity, pure form, something that's classic but it's a renewed classic. It's something that's familiar, but takes you a little bit out of your comfort zone."
Adds Hawkes, "I'm very inspired by nature. It's like a backbone for me – animals, plants. They're sort of a divine creation. Everything is perfection when it comes to looking at a plant or animal. It gives me a sense of serenity."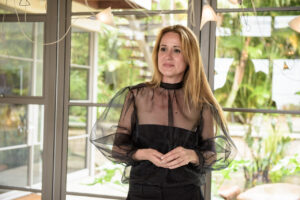 But that's certainly not to say she doesn't admire other designers and their work.
"If you look at my closet, I have everything from Prada and Miu Miu, to Versace, to Dries Van Noten," Hawkes says. "I'm a big Margiela fan. I'm wearing Christopher Kane today. I think when I look at something anyone else does, it has to ring true to me. When I buy other designers' clothing or furniture or lamps, it inspires my life as a whole. But the inspiration is not direct, it's digested and then goes through a process of elimination. It always feeds off and bounces through my internal compass to find what works for me with regards to the other things that are more stable in my life and my viewpoint."
So, what's her favorite thing about the bags?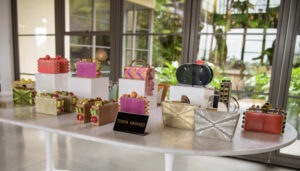 "I love that they bring people together," she says with a smile of the luxury pieces, which have been featured in Elle, Harper's Bazaar and Vogue Italia – and retail on average for a little more than $1,000. "Every time I wear [one of my bags], people stop me and ask me about them. It becomes a conversation. I'm really a shy person, so having somebody ask me about something opens me up. I feel like it gives you a voice. It gives you something to talk to somebody about without being too brash or too forward. You give that person kind of the green light to come to you if they are the right person."
[divider_flat]