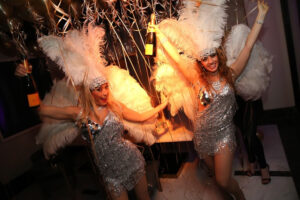 If you're itching for a glimpse into the new Vivienne Westwood penthouse suite at The London West Hollywood, it won't come cheap!
But thanks to UrbanDaddy, VIP guests at this week's Unlock the Party event had the luxury of getting a firsthand look at the lavish location, which goes for around $25,000 per night.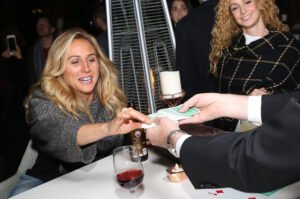 The lifestyle media brand gave partygoers the ultimate Vegas -like getaway from The Palazzo Las Vegas, complete with showgirl dancers, mind-blowing magic tricks by magician Paul Green, tray-passed bites by executive chef, Anthony Keene, seasonal cocktails and sweeping views of Sunset Blvd. and the L.A. skyline.
The party, hosted by UrbanDaddy CEO, Lance Broumand, unfolded between two floors. One was a rooftop deck with an open design that seemed perfect for the occasion. The open terrace boasted an outdoor bar, tunes from Andrea Shapiro (DJ Big Drop) and a relaxing fire pit. The lower floor provided large sitting areas and a place for guests to mingle away from the cold. The showgirls swarmed the rooftop and looked like they were plucked straight out of a Vegas scene with their sequined dresses and feather accessories.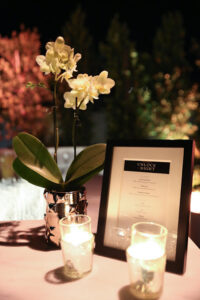 Before the end of the night, The Palazzo Las Vegas was to award a lucky attendee with a trip complete with airfare, show tickets, dinners and Palazzo hotel accommodations. Guests took turns trying their luck and in hopes of winning this ultimate getaway by receiving a unique key at the concierge station. The person able to unlock the door would be greeted with a balloon and champagne-filled room on the other side.
We'll bet on it that this is the penthouse you'll want for your next bash!
[divider_flat]