Some people stick to traditional spring cleaning, but I'm personally a huge proponent of doing it during autumn. There are always more things to get rid of when decluttering towards the end of the year than during Q2.
So yes, currently, as temps drop and leaves fall, I'm at peace going through endless drawers and closets filled with what I once thought I couldn't part with. It's the most freeing feeling, and I'm thisclose to being where I want to be with my environmental energy.
Whether during spring, fall or any season at all, getting rid of lingering belongings is always a good idea. That's why I reached out to Decluttering for Dummies author, Jane Stoller. While doing this is important, like any other big project, it's a daunting, time-consuming task.
"We're busy—when we come home, we're too tired or overwhelmed to even think about decluttering," Jane tells skyelyfe. "I hope to change that mindset gradually, and not only show that decluttering is fun but it can be incorporated into your daily routine naturally. Though, nowadays we're all working from home and many have made time to declutter!"
Kicking off a round up of decluttering is much like starting anything else.
"Ease into it the same way you would when starting a new exercise routine," Jane explains. "Schedule daily or weekly decluttering into your calendar to hold yourself accountable and beat the overwhelming feelings. The goal is that decluttering will happen naturally once you make this process a habit."
Keep reading for Jane's list of six things to get rid of when decluttering.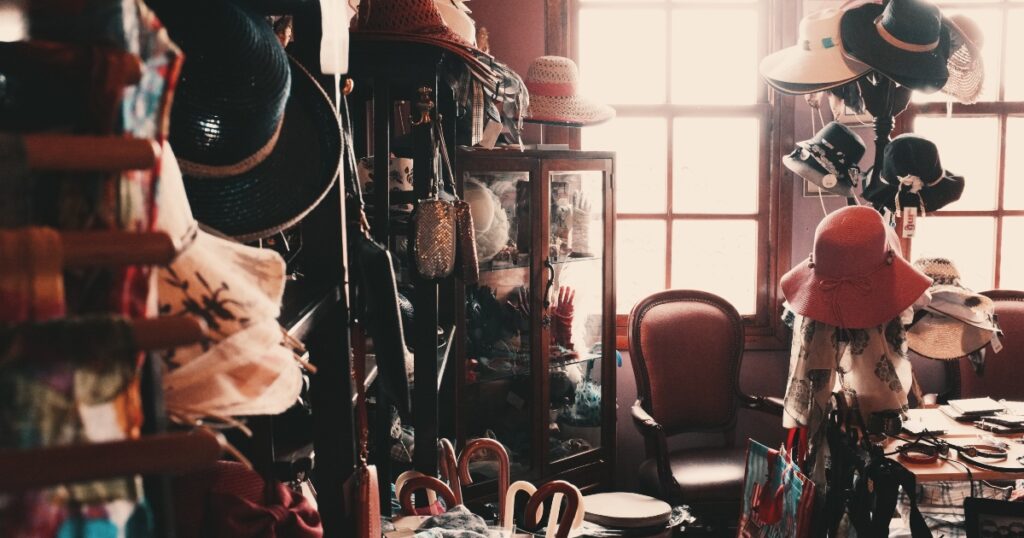 1. Anything That Steals Your Energy
2. Most of What's Packed Away in Closets or Other Storage Spaces
Anything taking up space is therefore taking up precious real estate. There are some common items that many of us store at home and they never see the light of day, or, we even have a separate off-site storage unit (and we shouldn't be paying for it). 
Furniture 
Furniture should be used, not stored. If you don't use it, why are you keeping it?
Electronics 
By the time you find them, they're either too old, are no longer relevant, or have been ruined by dust or the elements. Technology moves fast, so don't store electronics. 
Old Travel Bags
Not a week goes by that I don't see an ad for the latest new travel bag or suitcase that's lighter, more functional, has wireless charging, you name it! Holding onto old suitcases and travel bags is unnecessary. Keep your travel items up-to-date if you travel frequently—and if you don't travel, then why do you have these in the first place? Plus, airlines are getting stricter with weight and sizes, so traveling with your old huge and heavy suitcases probably isn't the best idea.
Photos 
It always bothers me when photos are stored in attics because no one can ever see them! Photos are meant to be viewed, especially if you took the time to print them. They should be taken care of, not stuffed in a box where they're likely getting ruined. 
Packing Material and Empty Boxes 
3. Photos of Your Ex (and Their Items)
This is definitely in the past! Memories and items, especially from past loved ones, are precious, and I completely respect that and want you to keep whatever brings you the most happiness. The key is to be selective in what you keep. Going through your sentimental items should be a joy, and the more selective you are about how much you keep, the better the process will be. 
4. Anything That Can't Be Used
While we know that trash is the most obvious clutter, everyone's definition of "trash" can also be different. As the saying goes, "One's man's junk is another man's treasure." But a rule of thumb is anything broken or expired that cannot be donated should be quickly decluttered. 
5. Paper 
If it's a document you need, scan it and upload it to the Cloud or any online drive of your own preference. Recycle all of your loose papers and shift to a digital mindset going forward.
6. Multiples
Rethink buying in bulk in the first place. On the same theme of determining how much you should keep, I encourage you to change your mindset and keep only one of something where you have many, and make it count. Hanging onto multiples or bulk-saving will not make your items more special.
Especially bathroom products! I think being prepared for anything is important, from earthquakes to having spare toothpaste so you don't have to run to the store at midnight. However, I don't agree with storing multiples of all your bathroom products and certainly not more than one extra of each. If you're at Costco and you see your exact moisturizer on sale in a set of 20, think twice. Will they expire before you're even ready to use them? Will you switch moisturizers next month? Will your skin type change? Are you willing to give up your precious real estate in the bathroom for these to sit for possibly years?
Now that you know what things to get rid of when decluttering, click HERE for expert tips on how to take the best #OOTD selfies.