Mackenzie Judge is the now 24-year-old owner of Blonde Public Relations and founder of The Blondie Beauty Podcast. Her podcast has featured 1:1 interviews with founders of leading beauty brands, including NuFACE's Tera Peterson and nail guru Deborah Lippmann. Her PR agency also works with a handful of beauty brands, including Set Jet, Wander Beauty, PMD Beauty, Donna Bella Hair, and D'Lashes.
Building My Public Image
For most people, pink is a pretty, feminine color—for me, pink is a lifestyle. I know that sounds silly, but allow me to explain. When I first even considered launching a podcast, I knew I had to present myself as more than just another blonde college grad who loves beauty. I knew I needed a clear cut identity so I wouldn't get lost in the shuffle. I needed to be memorable; I needed all my public content to fit into one of a few specific boxes.
I'm not the first beauty enthusiast to love pink and own a few Chanel handbags. But as every piece of content I published online related to beauty, pink or luxury lifestyle, slowly but surely, those became my public associations. No matter what I posted (and even still what I post now), it had to fall into one of those buckets in some way.
While pink is my color, beauty has always been my passion. I live for it. I love knowing about all the new beauty brands, trying every new product, following all the trends on social media, keeping up with the industry's business side, connecting with experts, learning about ingredients, facial anatomy, shelf life, you name it. Unfortunately, beauty and podcasting are two of the most oversaturated industries at the moment. It's almost impossible not to get lost in the shuffle without a big name backing you up.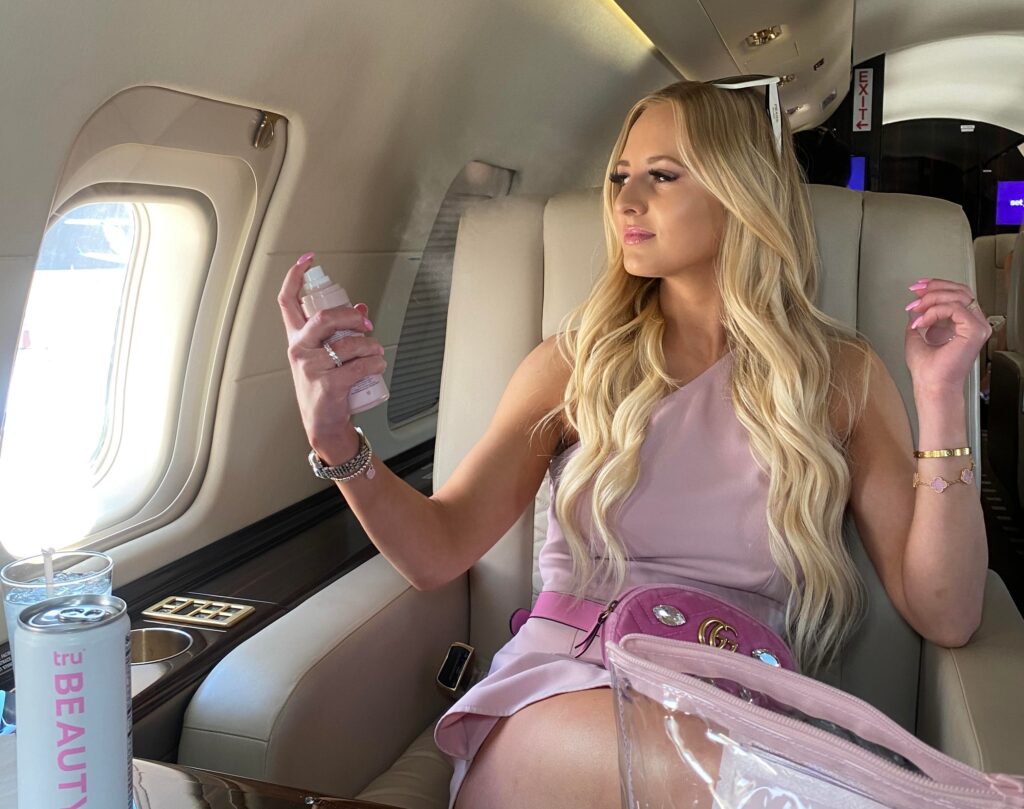 Breaking Into the Industry
During college at Arizona State University, I interned with a Senior Forbes Contributor who hosted her own business podcast. She taught me so much. I worked with her for two years completely for free, and to this day, it's my most valuable experience. So many connections were made, and I learned so much from her about podcasting, and even about public relations, without really even knowing I was being exposed to that industry. I loved this internship because I felt like I was actually getting a taste of more modern day business and how it works.
While my internship gave me many of the tools I needed to succeed, I knew I needed to get my foot in the door with a full-time job—and right after college, a PR opportunity actually fell into my lap. This job served me well for two years, but after a while, I realized the agency was getting farther away from my personal and professional goals. It wasn't getting me closer to my dream of having my own business anymore, and I felt like I was capped out at that agency.
But having a real job and working with real clients and editors exposed me to a whole other world—a very public world, and one I wanted so badly to be a part of. I wanted nothing more than my own platform to share my passions while giving other people a place to share their own. I don't know what came over me, but a couple years into my PR job, I mustered up the confidence to finally launch my podcast, The Blondie Beauty. At this point, I felt like I'd developed an accurate social media representation of who I am, how I want to be perceived and what people can expect when they connect with me for whatever reason.
Taking Off
I reached out to Capre Cleary, the founder of Australian beauty brand, ASGFR. We knew each other from before because I was actually her first U.S. client! The brand manufactures these amazing cleansing cloths that I can't live without, and I discovered them on Instagram. Because of our previous friendly correspondence, I felt comfortable asking her on. I actually felt really confident all throughout our call. That's because beauty is my passion, and communication and PR are my expertise. I wanted nothing more than to connect with founders and leaders in the beauty industry one-on-one. And what better way to do it than interview style?
Since that successful first interview, my podcast has featured a slew of leading names in the industry, including NuFACE co-founder Tera Peterson, nail guru Deborah Lippmann, celeb hairstylist Laura Rugetti, KORRES founder Lena Korres and dae founder, Amber Fillerup. I noticed that once I got the first two down, there was this domino effect of trust among me and other industry leaders. My work began to speak for itself, and it was such a fulfilling feeling.
Looking Back
While yes, the process has been uncharacteristically seamless for me, my biggest piece of advice with launching something new is to do it with confidence. If you can't launch it completely confidently, then hold off. I knew I needed to go into this believing in my brand and what I bring to the table. I put myself out there—and sure, like with anything, you won't get a yes from everyone. It shocked me how many people immediately jumped on board with the idea of featuring them on an episode. I think it's because I presented a consistent and confident image of who I am.
As I write this, it's hard to believe I'm almost approaching the two-year-anniversary of my launch. I've consistently posted an episode a week, bringing on tons and tons of beauty industry experts. I interview everyone in the space from editors and influencers, to celebs, founders, chemists, marketing experts and more! It's such a fun passion project, but I've also watched it help me grow in the beauty industry so much. I've not only gained an audience of listeners, but also social media followers and good friends in the beauty industry.
The success of my podcast gave me confidence to launch my own beauty PR agency at such a young age. I was like, I have the contacts, I have the work ethic, I have the passion—I can do this.
Looking back, I'm glad I gave myself a public identity early on. When people think of me, it circles back to my favorite color—which will always be at my core.
**the podcast featured skyelyfe on THIS episode, talking all things hair and skincare.
Speaking of beauty brands, click HERE to relive when Glossier launched its West Hollywood flagship store.