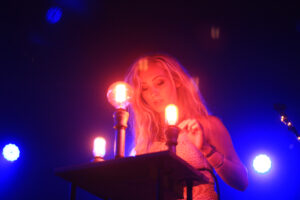 I randomly stumbled upon DWNTWN's music in 2012 by browsing through the Soundtracking music app. The folks at ST were really pushing this group. I decided to give them a listen and I was instantly smitten with "Look the Other Way." I also liked "See My Eyes." Both songs were off the act's four-song EP, The Red Room.
Since then, I've been following their career, just hoping for a full-length album at some point. Although they haven't gotten there just yet, I was super excited when I was driving around in April with a friend and a new DWNTWN song came on an indie Sirius radio station. The song was "Til Tomorrow," and it gave me great hope that more new music was to come from them. Sure enough, they released another EP, a self-titled five-song set of tracks. They've also lent their efforts on indie electro pop Kistuné compilations and on the upbeat melodic "On My Mind," by SomethingALaMode.
I knew I needed to let everyone know how amazing this group is, so I featured them in a post while working at People.com. Since then, my biggest thrill was finding out they were opening for ASTR and The Knocks at The Echo back on July 3. I mean, three of my favorite acts under one roof? I was obviously going! Even better was approaching lead singer Jamie Leffler in the patio of the venue after the group's performance and introducing myself. She was hanging out with her mom who came out to support. Leffler not only has a soothing voice, but she is so beautiful – mermaid-like. It also helps that she has a delightful, gracious personality to match.
The road to success hasn't been easy for the humble star-on-the-rise, daughter of late Tom Petty & the Heartbreakers bassist Howie Epstein. Despite coming from a musical upbringing, the singer experienced much pain stemming from Epstein's heroin overdose in 2003 at the age of 47 when Leffler was only 15. The Los Angeles native, who relives the experience of learning of her father's tragic fate in the song "Heroine," opened up to skyelyfe this week about everything from the heartbreak of losing her dad and grandfather, to her latest splurge and her love for Stevie Nicks.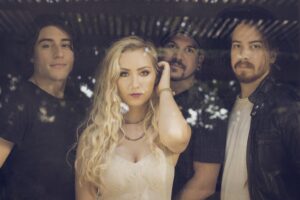 SL: How did DWNTWN come to be?
JL: I've known Robert for, wow, it's nine years now. That's crazy. Anyway, I dated his brother for years and when we broke up, I begged Robert [Cepeda] to write songs with me. Robert has been making music since high school and I had always been a fan, so I was thrilled when he finally agreed. We were pleasantly surprised with our first attempt and have kept going ever since.
SL: What is your favorite song of every DWNTWN release?
JL: That's a tough one! I have special attachments to every song we make, so it's hard to pick one. It's like asking me to choose which child I love the most [laughs]. But if I had to, I'd say "Missing You." It's a song written for my late grandfather who was the best man I will ever know. The sweetest, most supportive, lovely person, and it was devastating losing him. I still sometimes well up when we are performing the song. In fact, I did when I performed it [on Saturday] at Tarfest.
SL: Who/what are some of your personal musical influences?
JL: I love Stevie Nicks. Not only is she an incredible songwriter, but that voice! It's gentle yet powerful at the same time, which is something I strive for. And of course I love her stage persona.
SL: What has been your biggest career achievement to date?
JL: Our song "Heroine" is almost at 1 million plays on Spotify, which is a big deal to us because we've never had a million of anything before [laughs].
SL: Describe the band's latest EP
JL: We wanted to sound more like a band with this. Prior to adding our drummer and keyboardist, Robert and I were very limited live, which was reflected in the music we wrote. Now with more people, we have more freedom when we are writing. Also, I was determined not to continue writing songs about a past breakup. I delved deeper and took more inspiration from my family. "Heroine" is a song written about my father's drug addiction, and "Missing You" for my grandpa, as I mentioned before.
SL: Who are some of your favorite current artists and which other artists (if any) do you consider personal friends?
JL: We always love playing with Tapioca and The Flea. They Really nice guys that make really cool music. We have probably played with them more than any other LA band. Gold Fields are also awesome dudes from Australia who we met while we were both on the Capital Cities tour. AMAZING live. When thinking of how we need to improve live, I always think, we need to be as good as Gold Fields.
5 FUN FACTS
Last time you were drunk:
Saturday night. I played a little beer pong at our drummer's house after our show at the La Brea Tar Pits.
Last thing you splurged on:
Freebird boots. They were on sale, so I couldn't resist. But I'm feeling guilty about it, and I'm probably going to return them.
Last concert or festival you attended (can't be your own):
We saw Interpol in Vegas. They are one of our favorite bands, and I had never seen them live, so it was a great experience. Plus it was in Vegas, so that's always a good time [laughs].
Last reality show you watched:
Does Diners, Drive-Ins and Dives count as reality? Because that show is awesome. I like food more than I like most things in life.
Favorite pop star and why?:
Queen B! You can't take your eyes off her! What an amazing performer.
Check out the brand new release of DWNTWN's cover of Vance Joy's "Riptide":