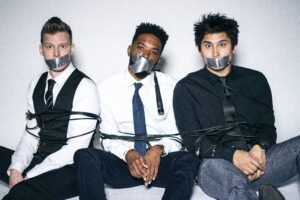 It's the first Friday of summer 2017!
And going off of that, I can't think of a better song to kick off the season's first weekend than indie-pop trio Wolves' debut single, "Animal."
The upbeat track, being premiered here on skyelyfe, comes from L.A.'s Sean Carney, 29 (Lead Guitar/Background Vocals), Phoenix's Rockwell "Rocky" Sands, 26 (Drums/ Guitar/ Keyboard/ Background Vocals), and Chicago's Marc Avery, 32 (Lead Vocals).
Scroll to the very bottom to hear the sexually empowering song, but before you get there, read on to learn about the song's backstory, how the trio came together despite being from totally opposite sides of the country and what the three guys like to do outside of the studio.
skyelyfe: How would you describe your sound and who are your musical influences?
Sean Carney: We would say that the best description of our sound and our musical influences are Coldplay, Michael Jackson, and The Eagles. We like to think that we have a solid blend of the past and the future that hasn't been heard before. Being from different parts of the country and coming from different walks of life, our music definitely paints the picture of the diverse landscape that we live in.
SL: What is the backstory behind "Animal"?
Rockwell Sands: "Animal" came organically. Once we had the production pretty much finished and the melody together, one of us came with the line, "Love me like an Animal!" The rest of the song came pretty easy. This song is a celebration of a woman who is completely in tune with her sexual being. On a deeper level, women catch a lot of shit for being sexual in the eyes of the public and that's total bullshit. The song is telling women not to be afraid to indulge in their carnal instincts when it comes to the bedroom.
SL: How did you form as a group?
Marc Avery: Well, each of us are songwriters and producers, and have been doing this for a while. Sean and Rocky met each other at a songwriter's expo about two years back and worked on a few songs and projects here and there. I met Rocky while I was bartending in Hollywood. He was getting hammered and we talked about how the two of us were songwriters. We ended up working on a few songs for placement when the conversation of starting a band came up. Rocky began production on a track and brought Sean in later on to add the flavor it needed. That track eventually turned into "Animal."
SL: What are your hobbies when you're not recording and listening to music?
R.S.: Nothing! No, honestly I enjoy playing video games and going to the movies. I'm a huge comic book fan, so I love all the superhero movies… well, most of them.
S.C.: I like going surfing and going to the beach. I also like partaking in "seaweed," if you get my drift. I have two cats at home, so I like to hang out with them sometimes.
M.A.: I enjoy movies as well, but I am a huge sports fan! I'm really the only sports fan in our band. So I love almost anything that is competitive on a high level; basketball, football, baseball—Go Cubs! A good whiskey or "seaweed" is always welcome as well [laughs].
[divider_flat]