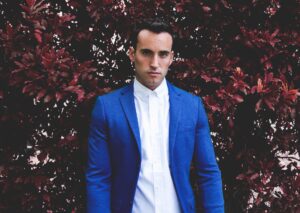 Cameron Ernst is from Andover, Kansas – but the indie-pop singer-songwriter had big city life on the brain from the time he was young.
During early youth, he began singing in a prestigious local choir, per the suggestion of a mom in town who heard his impressive vocals. The experience excitedly led him to a performance at NYC's Carnegie Hall.
And after years in Kansas of piano lessons and participating in his school's band, Ernst spread his wings and made his way to L.A. to attend USC, later deciding to move out here for good to pursue his dreams of being a musician.
"I've learned not to wait around for someone to help me with my career," he tells skyelyfe of making the proactive transition from small town to big city. "I've got to keep pushing forward in creating great music and be the driver in my career moves. I've also learned that I can be content with where I'm at now and still be proactive with pushing forward, which is hard to do in a fast-paced culture where we're constantly looking at what's coming next. The move was a big milestone in my life, and takes a lot of courage and determination, especially as an indie artist."
The emotional decision to move is much of what is featured on Ernst's debut album Steadfast (scroll to the very bottom to listen), which was released on Sept. 14.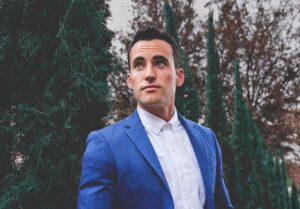 "All of the songs are from personal experiences or situations I was inspired by," he says. "It's interesting to look at the songs individually and connect them to what I was going through when I wrote them. As a collection, the album is definitely a chapter of my life where I was putting things that have scarred me in the past and learning to move forward and see the bigger picture in life."
Ernst addresses some of those moments that have "scarred" him in "Vagabond," the first single off the album. The song touches on his days back in Andover when, for example, he used to get picked last in gym class – which caused him lasting feelings of isolation and being unwanted. But in retrospect, he feels like that pain contributed to the journey that led him to where he is currently, and now he is only looking ahead.
"In a year from now, I'd love to be putting out new music with a bigger team of people and touring with a larger artist so my music can have a bigger reach," he says.
Among his dream touring partners?
Perhaps Walk the Moon, Troye Sivan or Jarryd James, who he notes as some of his favorite artists right now. But Ernst credits Taylor Swift, Broods and M83 for inspiring the work on Steadfast, while not failing to acknowledge that country music is his "guilty pleasure."
Although Ernst no doubt wants to live the L.A. dream and experience the mainstream success of some of his beloved acts, he insists he won't be changed by potential fame.
"My morals and values were definitely instilled in me from growing up in Andover," he says. "I'll forever be a good ol' small town boy."
Follow Cameron on social media!
Twitter & IG: @cameronernst
[divider_flat]