With the exception of at a party, work or a fancy dinner, activewear seemingly dominates the bodies of L.A. residents – especially women.
From wild-colored printed leggings, to solid black two-piece Lululemon ensembles, these typically Lycra-based items have surely taken day-to-day precedence over what used to be skinny jeans.
With fall underway, I reached out to some of my favorite trainers and fitness experts to get the scoop on the hottest trends of the season. Read below for what they have to say, and where you can swoop up your very own of the recommendations.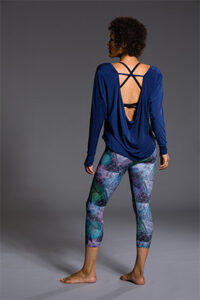 "I enjoy capri leggings with a print – nothing too loud, but enough to make a statement. They are something that provide coverage but also feel like you aren't suffocating your legs in. I love something that adds a little peekaboo element to it, weather it be something that shows off the collar bones, a little shoulder or an open back. Of course sports bras should be functional but adding some uniqueness to them is always encouraged. Especially when you have a top you can throw on after class that still shows it off a bit! The inspiration from this response comes from Onzie look pictured here." – Heather Dorak, Pilates Platinum owner
BUY SCOOP BACK TOP HERE
BUY CAPRI PANT HERE
BUY BRA TOP HERE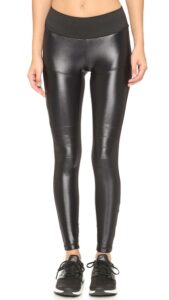 "My favorite trend for fall is faux-leather paneling. It's so fashion-forward and gives athletic wear a very sleek, hip look. Although you'd think leather would be too hot to workout in, most of the designs out there are lightweight and/or include some mesh to add breathability. Koral activewear has several adorable pieces, including bicycle shorts for your next spin class, a strappy sports bra to let peek out of your muscle tank and 'moto leggings,' which can totally double as chic club/concert wear." – Whitney English, trainer and To Live & Diet in L.A. editor-in-chief
BUY BICYCLE SHORTS HERE
BUY STRAPPY SPORTS BRA HERE
BUY MOTO LEGGING HERE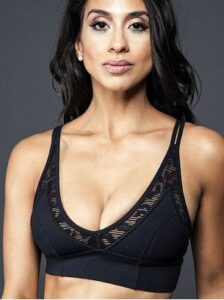 "One of my favorite spots bras is by Vimmia activewear. It almost falls into the category of crop top. Needless to say, for a girl who's only 5'4, I'm big on wearing things land on the body. The difference of an inch can really elongate or shrink the body. This crop is absolutely amazing! It fits beautifully with its little bit of mesh sexiness – yes please – and perfect hold. I like to wear mine under a tank or T-shirt, usually by Kain as they are soft, sheer, sexy and perfect for taking it to the street right after, especially when you add that vintage leather on top."
Also, mesh isn't going anywhere and the animal print is still in full effect. They both are simply amazing. One of my absolute favorite lines is HPE: Human Performance Engineered. Their pants fit incredibly! They even give a little booty lift and have the waistband we all love, which just seems to land perfectly on the body." – Kodi Kitchen, Founder, Best U Studio
BUY SPORTS BRA HERE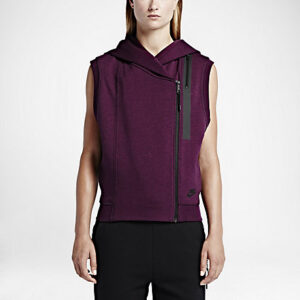 "My favorite workout wear piece this fall is a vest. The Nike Women's tech vest is my go to for layering and the draped hood is the best part." – Abby Lauren, trainer, co-owner of Juice on the Loose
BUY VEST HERE
[divider_flat]