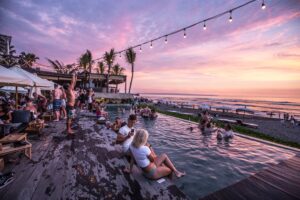 Whoever says summer's already over is probably just too eager for fall.
Usually I'm that person, but seeing how most of my friends are just now leaving for their extravagant seasonal getaways, it definitely still feels like summer.
That's probably why I don't feel like it's too late to post the ultimate summer playlist, full of the best releases in the last three months.
Let it be known that I spent the entire season—leading up to literally today—going through every press release I received, rummaging through all my Spotify new music playlists and Shazaming every new song on that struck a chord (pun intended) with me on Sirius radio.
After months of adding new songs and deleting others, I came to my finalized 37-song, ultimate summer 2019 playlist. This includes everyone from PNAU, Kelsey Lu, E-40 and Flux Pavilion (earlier in the summer), to PVRIS, Phantoms and Shallou (later in the summer).
Give it a go below:
[divider_flat]