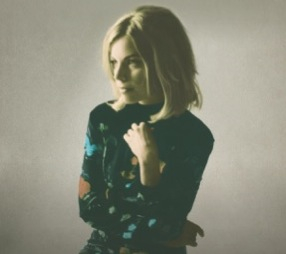 With a bit of a folky sound, tied in with some pop and blues, Odessa rose to recent musical fame with her debut single "I Will Be There," which is featured in Subaru's "Flat Tire" commercial and on the soundtrack for If I Stay, starring Chloe Grace Moretz. She also performed with Edward Sharpe & the Magnetic Zeroes as a full-time violinist.
The Sonoma County-bred singer-songwriter, who released her four-track self-titled EP in September, will embark on month-long east coast tour next month. But before hitting the road, the musician performed an intimate acoustic showcase earlier this month at the Pasadena home of Chop Shop Records owner Alex Patsavas.
"Of course there are people who inspire certain emotions that produce music, but a lot of my music ends up being written about several different people and situations," she told skyelyfe during an exclusive chat after her performance, in between sips of specialty Stillhouse Original Moonshine punch. "Like it might start out inspired by one person, but it usually changes."
Perhaps its her laid-back Northern California roots, but Odessa still doesn't see herself as a star.
"There really hasn't been a moment so far where I've been like, 'I've made it!' " she says. "I think after I'm dead and I go onto the next life, I think that's when I'll say I think I've made it and I've done everything I think I can do up until this point."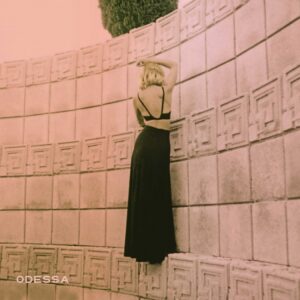 Another likely contributing factor to what keeps the natural beauty grounded is her refusal to get caught up in what goes on in cyberspace.
"I understand the value of social media, but I'm not a fan of all and I don't buy into it at all," Odessa says. "It's this other world we've created outside of reality where people suddenly think that they have something to say that's worth everybody in the fucking world listening to. And I think it's a waste of our time and I think it's literally killing our generation."
And while she understands that spreading music these days is "all functioning" via internet, she is "able to draw lines," explaining, "I personally don't want to expose my entire existence to the world. I don't think it's actually worthy of peoples' time. When I listen to music, that is something that's helped me through struggles in life and it's very real when the music that's being written is real. But if it's what you fucking wore today – what designer or what lipstick shade you're endorsing – I don't have any interest in that."
With the belief that social media is "cluttering our minds," Odessa says, "There's only so much room in the brain and you have a choice what to fill it with. When you're inundating yourself with useless information that famous people are sharing with you all day long, it makes you feel empty at the end of the day, I think."
Comparing the social media "tool" to income, she says, "You can look at money and say money is disgusting. But it's what people do with money that's fowl."
One topic Odessa has a much lighter outlook upon is her life in Los Angeles.
"I prefer Northern California, but there are many things I love about Southern California," she says. "I personally know some great people here. I've made great friends. There are great things about both places, but Northern California's a little bit more my style, as far as day-to-day."
Avoiding the party circuit, Odessa sticks to places like Little Dom's in Los Feliz if she feels like grabbing a cocktail. But otherwise, she'll trek all the way to Venice for a sip of what she considers "the best coffee in Los Angeles" at Gjelina.
And forget the phrase "nobody walks in L.A.," because this girl gets plenty of exercise on foot.
"I live in Los Feliz and I really like just walking the streets there," she says. "I like Old Hollywood. I like Vermont Avenue. I generally walk Los Feliz to Vermont. It's one of my favorite streets to walk. It's been that and Franklin. That little area is beautiful to me. Los Angeles to me feels kind of like a timeless place. There's so much history here and certain places that are really preserved. California is a dream. It's like the most beautiful place on earth. I drive to Malibu a lot. There's a hike called Solstice Canyon and it's one of my favorite spots."
But now Odessa is preparing to spend time on the other side of the country, something she addresses with a big smile.
"My brother is tour managing me, which I'm very stoked about," she says. "He's never done it before, but he's well-equipped and he's 6'8. He's going to be perfect. It's going to be an all-girl band, which is going to be new."
Can't make it out to see Odessa live? Listen to her melodic EP below:
[divider_flat]