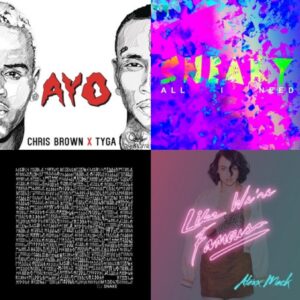 It was the very beginning of 2015, and Chris Brown and Tyga's "Ayo" was the first new radio song I'd heard of the year. I remember driving down the 405 with so much energy, thinking, "Wow, I love this song!"
Well, nothing's changed since that fateful January day, and the carefree club track has remained not only my favorite song of 2015, but among my top five in the last five years.
But I obviously didn't limit my listening to just that one track, and below is my list (actual Spotify playlist at the very bottom) and explanations of the 25 songs that best managed to bring a smile to my face this year. Note: These are in no particular order (well, except for #1 of course).
1. "Ayo" – Chris Brown & Tyga
If you've ever been with me in an uber, house party or anywhere with an auxiliary cord or some kind of Spotify connection this year, then I'm certain you know this song from start to finish. "Ayo" was definitely my anthem of 2015, and even with the new year upon us, I am certain this will forever remain a going-out classic.
2. "All I Need" – Sneaky Sound System
This song didn't come out until the end of this year, but it wasted no time making its rounds on my Spotify spins. Sneaky Sound System (who now apparently just goes by Sneaky) has never let me down, and this uplifting song is no exception.
3. "Middle" – DJ Snake & Bipolar Sunshine
I was surprised this incredible track never made much of the radio rounds, following the immense success of Snake's "Lean On." "Middle" is far superior in my opinion, but it's probably for the better that it hasn't been played out (yet).
4. "Bad" – Alexx Mack
Not to be confused with former Nickelodeon character Alex Mack, this young lady, who I had the pleasure of interviewing back in February, brings out edgy pop at its finest. I fell in love with her sound after hearing "Bad," and everything she's released since has been nothing short of fabulous fun!
5. "Talk to Myself" – Avicii
I was really impressed with Avicii's eclectic Stories album, which pleasantly took a little detour from that strictly country sound he had been going with in his previous material. "Talk to Myself" was my favorite from his latest project, and it definitely received a high dose of my Spotify spins during the month of its October release.
6. "Zero" – Chris Brown
Not much more to say than how can you turn away from a funky, high-energy track that makes you want to dance? Well done, Breezy!
7. "Planes" – Jeremih & J. Cole
This Grammy-nominated track provided the perfect combo of a sick beat and a smooth-flowing verse by J. Cole at the end. No complaints here!
8. "Trippin (Deep Hamilton Remix") – Hedvig & Hamilton
This sexy little electro tune resembles Kygo's sound and was on my regular rotation for the first three months since I'd heard it.
9. "The Less I Know the Better" – Tame Impala
Tame Impala had a breakthrough year with the release of their Grammy-nominated dream-pop album Currents. The 13-track compilation that I think was the best of the year is easy on the ears from start to finish, but "The Less I Know the Better" definitely got my attention the most.
10. "Take Me Over" – Peking Duk & SAFIA
It was a tough call between this track and Peking Duk's "High," but I had to give SAFIA some love after hearing this incredible Australian indie-electro band for the first time on several tracks this year.
11. "Midnight Sun" – Kate Boy
Kate Boy wows me with every song release. The Swedish synth-pop duo has a signature sound that can't go unnoticed, and "Midnight Sun" was regularly stuck in my head since its debut.
12. "Chasing Heaven" – Bassnectar
Dark beauty at its finest, Bassnectar's melodic dubstep is always a must-listen, and "Chasing Heaven" was the best off his "Into the Sun" release, in my opinion.
13. "Sunglasses" – Alexx Mack
Mack makes the list again with her equally catchy "Sunglasses," which is about hitting up a party and having a good time. Nothin' wrong with that!
14. "Pink Medicine" – Bearson
Odesza fans should give this fun track a listen because there's a major sound similarity.
15. "Will You Dance?" – the bird and the bee
I had the pleasure of interviewing the bird and the bee's singer Inara George this year for Billboard, and not only was she soft spoken and delightful, but her long-awaited "Will You Dance?" album was the perfect light and airy selection of songs I needed to kick off summer months. "Will You Dance?" (which was also the album's lead single) was every bit the sweet and deliciously sappy track that perfectly complemented carefree fun in the sun.
16. "Gemini" – What So Not & George Maple
This song dominated my drive to and from Coachella this year. I saw George Maple at a small show shortly before the festival and knew immediately this song would be on my heavy rotation.
17. "The Other Boys" – NERVO, Kylie Minogue, Jake Shears, Nile Rodgers
Kylie Minogue + anyone, typically = gold, and "The Other Boys" is no exception. The dance track is perfect for getting ready to go out, driving on the freeway, or pretty much anything else.
18. "The Music" – Gigamesh
Known mainly for his electronic remixes, Gigamesh released a track of his own this year with the delightfully dance-y "The Music."
19. "Run" – Alison Wonderland
This SXSW artist's own music didn't hit it big until this year, but the moment I heard "Run," I needed to hear more. Known for her edgy style and equally hip sound, this Australian electro artist definitely has the potential for a bright future.
20. "Where Are Ü Now" – Jack Ü, Skrillex, Diplo, Justin Bieber
Arguably one of the biggest songs of the year, this release was not only Justin Bieber's first step toward a comeback, but it also introduced some of the most unique and cutting-edge sounds in music (especially on the radio).
21. "Been You" – Justin Bieber
This upbeat little number was by far my favorite track off of the Biebs' successful "Purpose" album. Honorable mention goes to his earnest intro ballad "Mark My Words."
22. "Falling Away" – Seven Lions & LIGHTS
You can't put Seven Lions and LIGHTS together and not expect a beautiful piece of work. This melodic electro track has been on my regular rotation since its August release.
23. Want to Want Me" – Jason Derulo
File this one under guilty pleasures, but hey, it produced some pretty awesome memories (and dance routines) for me this year, so I really cannot complain!
24. "Fetty Wap" – Trap Queen
Another guilty pleasure track that I'm sure I'm not alone in listing. Although I got sick of it after probably the 100th listen, there's no denying that this was one of the catchiest radio singles of the year.
25. "Fine By Me" – Chris Brown
Like "Zero," this track from the just-released Royalty album makes you want to get up and dance! I'm so glad I closed out this year seeing Breezy's concert at the Hollywood Palladium.
[divider_flat]