When I think of Singapore, indie rock isn't the first thing that comes to mind, but as shoegaze band Pleasantry proves, there is a thriving American-style music scene in the Southeast Asian country.
The five-member group, who opened for Belle & Sebastian and Caribou earlier this year, is excitedly making its way closer to the states, playing overseas for the first time at Canadian Music Week tomorrow. The band (Samantha Teng, Isa Ong, Ahmad Ariff, Daniaal Adam and Haziq Hussain) will be in the company of big names, including Death Cab for Cutie, Colbie Caillat and Kiesza at Toronto's big event. They'll be touring in the U.S. directly following their trip to Canada.
Daniaal, the drummer for the band, chatted with skyelyfe about the club and music scene in Singapore, some American musical influences and Pleasantry's sound – airy voices layered underneath swirling instrumentals.
Read on to get to know Pleasantry and check out their debut album Synapses below:
skyelyfe: How did the band name come to be?
Daniaal Adam: We were trying to come up with a band name that fit our sound at that time. "Pleasantry" was one of the first few names we thought of after we collectively described our music as pleasant.
SL: What is the music scene like in Singapore, and who are some of the most popular artists?
DA: The music scene in Singapore is relatively small, but there's no shortage of talent. Everyone knows each other and supports one another at shows. There's just so much love around, which is great to have! The music scene here has been progressing over the last few years as more local artists and bands take their music more seriously. Some of our favorites are .gif, Gentle Bones, ANECHOIS & Charlie Lim. But there are really so many other great ones worth mentioning!
SL: Which artists popular in America do you listen to? And who do you look to for musical inspiration?
DA: We love so many. We consume as much American pop culture as you guys do in America! All of us listen to quite a variety of music. I know some of the guys love Broken Social Scene, Givers, and American Football. I personally love Flying Lotus, Kendrick Lamar, and The Mars Volta. I'd say each of us draw inspiration from fresh sounds and whatever pushes the boundaries of music.
SL: What are the most popular clubs for good music in Singapore and what is the scene like?
DA: Well, it depends on what you define as good music. There are a lot of clubs in Singapore that play EDM and house music. But our favorite has to be the Blujazz Cafe along Arab Street. It's basically a three-story venue that has jazz playing on the ground floor, electronic music on the second floor, and indie bands on the third floor. Great food, drinks and vibes. It's usually packed on Fridays and the weekends.
SL: How did you get into the shoegaze sound?
DA: At one point, we all played in our own shoegaze bands. Isa and Ariff were in a band called Amateur Takes Control. Haziq still plays in a shoegaze bands called ANECHOIS, and I used to play in an instrumental post-rock band called Lunar Node. So when we all came together with similar musical backgrounds, it was natural to have elements of shoegaze in our music.
SL: Anything else you can tell my readers about Singapore, music, the band or anything else of interest?
DA: Yes! For starters, a little bit more about ourselves. Isa and Ariff are currently in University finishing up their degrees. Haziq is an engineer and a big football fan. Samantha is working in a bank and loves fashion. And lastly, I am a marketing executive at a music label and a huge soccer fan. This upcoming North American tour will be our first time touring as a band and we can't wait to play for you guys!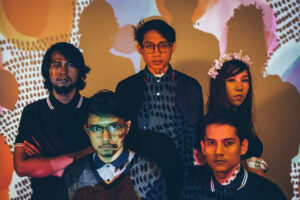 [divider_flat]