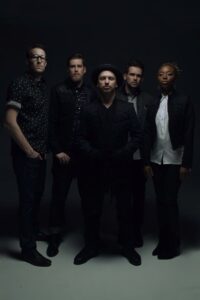 I met Jordy Towers for the very first time at around 2:00 a.m. in the pool area of the Renaissance Esmeralda Resort & Spa in Indian Wells, California, the night before Coachella. In this huge resort where we were both staying during one of its busiest weekends, we just so happened to be the only ones wandering at this hour in this particular space. Not familiar with who he was, I decided to approach him (why not?) and we got to talking. In just one night, I heard a bunch of his then-unreleased songs, learned all about his passion for music and gained insight into the story of how his band SomeKindaWonderful came to be. We've stayed in touch ever since, and it's great to see his career soar.
Now, fresh off the heels of a successful release of the group's self-titled debut album – along with regular spins of their hit "Reverse" on L.A. radio stations KROQ and ALT 98.7, Towers and his band mates are embarking on a fall tour with Bad Suns and New Politics, which kicks off in early October. Set to play at the Fonda on Nov. 1 (for all you L.A. locals), the Cleveland-bred former freestyle rapper took some time off from prepping for his tour to chat with skyelyfe in August about the fateful (literally) night his trio came together, how being cheated on inspired his album, his surprising culinary obsession and why he considers Lady Gaga one of his musical influences.
SL: How did SomeKindaWonderful come to be and why was "Reverse" chosen as the first single?
JT: I left L.A. and went on a soul-searching mission. I went to a bar with my cousin in Ohio and I ran into Matthew [Gibson] and Ben [Schigel], and when I ran into them, Matt was playing the guitar and he was playing the melody for "Reverse." I walked up to him and I was singing the melody to the song, which ended up being our single. So we basically met writing our single. We ended up recording the verse that night, so about four hours after we met, we had our song.
SL: What's the story behind "Reverse?"
JT: It's about something that actually happened to me, but I didn't want to tell the story – see, I was cheated on, and I didn't want to tell the story exactly how it happened. But then I decided, fuck it, I'm going to do it three layers of "Reverse." In the story, I say that I was the one who cheated, but really she cheated on me. So the whole thing is in reverse.
SL: Who/what are some of your musical influences?
JT: My songs are written by looking at someone taking a bite of food or kissing their child or talking or reading a book – just kind of human elements. Musically, I've always loved Bob Marley as an artist. He actually cared about people and the world and wanted to make a difference. John Lennon was also that kind of artist. I love Gaga for that same reason. I'm more cerebral when it comes to things like that. I don't want to do anything that ever sounds like anybody else. Alternative music needs stars. The radio game is very single driven. A lot of these people are good musicians, but there are no personalities. They don't know how to brand themselves. That's what we bring to the table.
SL: Where were you the first time you heard "Reverse" on the radio and what station was it? What was your reaction?
JT: I just got back from SXSW, which was our first show. I just got home and I was driving to play basketball and I had KCRW on and Jason Bentley was the first person to play my song. If people go on Instagram, they can see my reaction.
5 FUN FACTS
Last movie you watched:
Bad Words, and I loved it. It's fucking brilliant. Jason Bateman is amazing. He's hilarious. The movie will make you laugh and break your heart at the same time.
Last time you cooked:
I cooked last night. I make endive tacos. I chop up tomatoes and onion and mushrooms and I make a stew and put in brown turkey meat. I grate this white cheddar cheese and I take the endive and use it as a taco shell. And I make my own homemade green salsa.
Last time you couldn't stop laughing:
I laugh almost every ten minutes pretty fucking hard. Things are hilarious. Last night I was watching a Dodger game and [Yasiel] Puig – this kid shows all of his emotions – You either hate him or love him. He shows his expressions. He's not stoic. He doesn't know the major league way to be. I adore him for it. I almost died last night.
Last real work-free vacation:
I don't think I've ever had a vacation. I just constantly work. Maybe Coachella. Writing my album was like a vacation I guess. That was in January. I got to go out in Cleveland and rent a little cottage for myself. It was probably the best time of my life. It was -20 degrees every day.
Last reality show you watched:
I'm kind of a dork. The last one I watched was Next Food Network Star. I love Food Network. If I weren't doing music, I'd probably be a chef. I love being creative with food.
Check out SomeKindaWonderful's debut music video here:
[divider_flat]