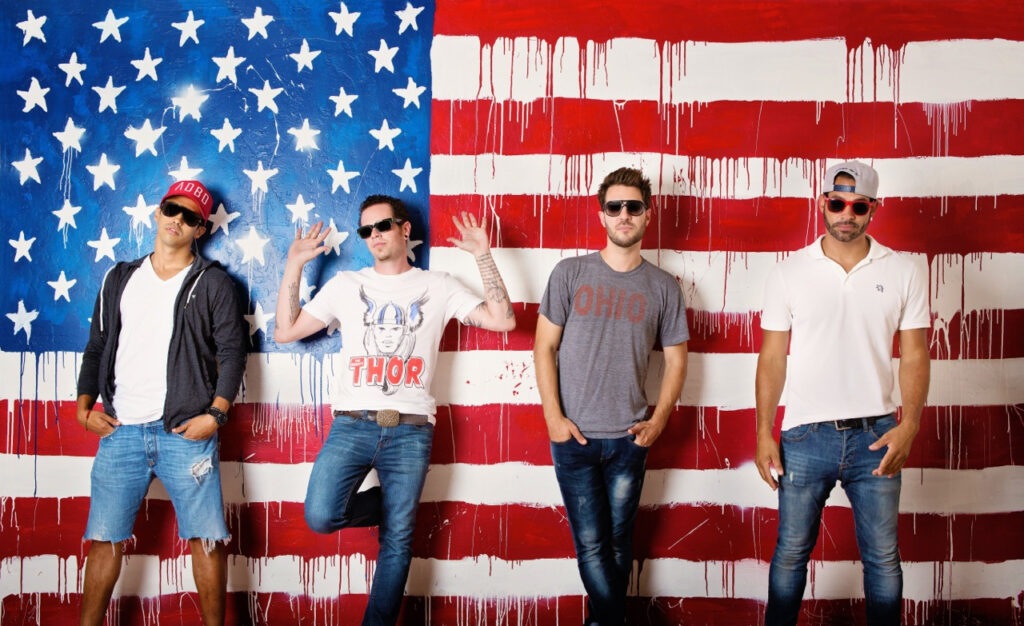 More than 10 years ago, O-Town won over tween girls' hearts with "All or Nothing," while sharing what was on their dirty little minds with "Liquid Dreams." All this time later, Erik-Michael Estrada, Dan Miller, Trevor Penick and Jacob Underwood (sans former member Ashley Parker Angel) are here to prove they've still got what it takes to dominate the Top 40 charts. The boys-turned-men, whose pop group was originally formed from MTV's Making the Band in 2000, recently released their new album Lines & Circles with its debut single "Skydive." The guys spoke to skyelyfe exclusively this week about fitting in with today's sound, why coming out with "Liquid Dreams" was such a challenge back in the day (for those who don't remember the song, read the risque lyrics here) and why it is "upsetting" to see Ashley posting sexy selfies! And of course it wouldn't be a proper chat if they didn't provide a playlist of their top 10 boy band songs of all time!
SL: A decade later, you're still going in the pop direction? What made you guys decide to continue in that route?
Jacob: We've always been pop. We didn't try and rewrite the book there. But we did want to hone in on a sound that was more O-Town. This album has 70 percent or more written by us, the art done [by us], we edited, we played the instruments. It's really been like the first O-Town record. That's how we feel about it. But obviously we're pop … we just want the sound to reflect where we are today and what we've learned in the last 10 years.
SL: What do you want fans to know about your journey in the last decade?
Erik: We got a chance to do a lot of different things after the hiatus. Jacob moved to Nashville, then he went and got his business degree. He's managing the band. I did some songwriting, as did Jacob. We just wanted to contribute in ways that we didn't really get to the first time around because the process was so convoluted by so many obligations with the television show and everything. We just didn't have the control that we have now.
SL: Who are you fans of these days and is there any chance of any upcoming collaborations with artists who are big right now?
Dan: Pharrell [Williams] is collaborating with everybody right now and he can't write anything that's not a hit. It would be awesome to work with somebody like that, but more producer collaboration because we are four artists – four very different artists. So we honestly feel like every song that we do is a collaboration. We listen to and write different things, but when we come together … our differences create a sound that we would have never had as individuals.
Erik: I think there is room for a collaboration besides a producer. I think it would probably be a female singer, so like maybe [working with] Demi Lovato or Taylor Swift would be something we would all have fun attempting.
SL: What is your take on your fanbase? Do you feel like you have to start from scratch or do you feel like you've held on to the fans you've had in the past?
Jacob: We've definitely held on to fans from the past. That's one of the biggest reasons why we came back together. When we went to Europe for the first time, we actually had the same fans who would meet us at the airport when they were 13. They were now 25, 26, and retaking pictures that we had taken. I think [our] music, being where it is now, we'll be able to reach out to a new fan base who didn't like or didn't know O-Town before. [Our new] music is current.
Eric: The music's different and we're a different band than we were the first time around. We're four different individuals and we're minus an individual, [Ashley Parker Angel].
SL: Speaking of Ashley, have you seen his sexy photos on social media?
Jacob: [laughs] What do you think of those photos?
SL: Hey, I asked you first.
Jacob: We saw them. What do you think of those photos?
SL: It's a little different than what I used to seeing years ago, but hey, coming from a guy who sang about "Liquid Dreams," anything is possible, right? But are you guys proud of his modeling career or whatever you want to call it?
Jacob: I don't think anybody should be proud of a selfie, period. The only time I take a selfie is when I'm trying to show people what's behind me, like where I'm at. You may find half of my face. It's just to prove that I'm there. But this whole posing and jaw-locking and sucking in is just upsetting all across the board – guys and girls alike.
SL: Now back to "Liquid Dreams." Did you guys ever hear from any of them women you referred to in that song?
Jacob: The Destiny's Child crew and Janet Jackson gave us some love. And Tyra [Banks], I remember Tyra.
SL: How was it coming out with a risqué song like that during a very bubblegum era?
Jacob: Our hardest task was trying somehow to explain the song without completely explaining the song. We had to come up with a story that people would buy that wasn't about what it really was.
[divider_flat]