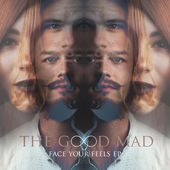 You may have heard The Good Mad perform on former ABC Family show The Lying Game, but if not, the trio – which is formed by the program's actors Allie Gonino and Adam Brooks, along with Andy Fischer-Price – just released their third EP, Face Your Feels, with five new alternative-folk tracks to get familiar with.
The trio, which hails from Dallas, Nashville and Seattle, respectively, chatted with skyelyfe, sharing insight into the songs on their latest effort and their thoughts on pop music and the possibility of breaking into the mainstream.
skyelyfe: How does this EP differ from the others you guys have released?
Allie Gonino: There's more production with this EP. It's not just us playing the instruments. We have two producers who we worked with, who are collectively known as Yell for Help. They produced it and made it feel like a meatier, bigger record. I wouldn't necessarily say it's more overall upbeat, it's just fuller.
SL: What is the influence behind this EP?
Adam Brooks: Mike and Fann Pappas (Yell for Help) approached us. They had studio time and we were all in town together. They work in a studio and they had a studio open and the stars aligned. We were all kind of ready to go. It was definitely time to record something new for The Good Mad.
Andy Fischer-Price: A lot of the time we recorded, I feel like we were all listening to a good amount of Father John Misty. I don't know that [our EP] sounds like Father John Misty, but –.
AG: We all kind of wrote the songs separately except for "No Time to Talk." Andy and Adam collaborated on that one. The inspiration came from I think a bunch of different things, but specifically for "Dark Waters," I just had a conversation with Adam about getting outside your comfort zone. To live means to take risks and shake things up, move and break your patterns. It was also inspired by swimming in the ocean for the first time in 10 years and being scared of sharks. But [overall], because we did the songs separately, they kind of came from different nucleuses.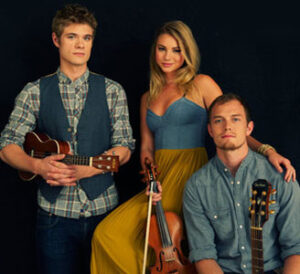 SL: Do you guys want commercial pop success, or do you want to keep your fan base more indie?
AB: We want to stay authentic to ourselves, so if that includes some cool pop success, I think we're all for it. But I don't think we want to sacrifice anything by going for it.
AFP: We definitely want to sell records. If we made it into the top 40 due to record sales, that's not a problem. But I don't think we want to [alter our sound].
SL: And as far as your sound is concerned, do you want to keep things folky-alternative, or would you ever go alternative-pop?
AG: I think we're trying to create and establish our own thing. The important thing is to write a good song. If you write a good song, you'll have a better chance of it becoming popular. But at this point, I still love playing the violin, and I'm playing the autoharp on this record as well, and we have the yuke. Our base is still folk, but we've definitely pulled in some electronic influence, if you will. We're trying to blend the two together in a way.
AB: But in the same way, we're not aggressively trying to sound super pop. I don't think we're trying to sound super folky either. That's just sort of a niche that we had been in. I'm not afraid to write songs that fit within it, but at the same time, we're just enjoying expanding creatively and using the influences of everything that is current and past to come up with our own cool, fun, authentic stuff.
SL: When you think of music on the radio right now, who do you respect as artists, whether it's songwriting, producing, singing and so forth?
AG: I really like and respect Bruno Mars. I think Sam Smith is just a phenomenal talent. I love Pharrell [Williams]. I love Lana Del Rey.
SL: How did you guys end up with your group name?
AFP: We were trying to come up with a name and we saw something spray painted on a bridge in Austin that said "The only ones for me are the mad ones," and I know that's a quote from [Jack] Kerouac's On the Road, and it's always been a cool book to me. I thought about that and it led to The Good Mad, the good kind of crazy. Like Alice in Wonderland, we're all mad here!
SL: How did you guys end up forming your trio?
AG: We were in a different band in L.A., but it didn't last, and pretty much all of the other band members from that band moved back to their hometowns and we were the three remaining pals. We continued to write and play together.
AG: Chet Pratt, the creator of The Lying Game, asked if I had any music I wanted to play on the show and I told him my friends and I were making music. Adam auditioned for the role of Baz and booked it and then they came to Austin and that's where we came up with the band name. That's the basically the genesis. We are a real band!
AB: We'd be making music even if it were just in a living room. So the fact that our music has an audience is an awesome thing, and we're grateful.
AG: And we're also trying to plan a tour for later this summer.
AFP: We're going to be touring with a cool soul singer Molly Durand, who we've all been friends with for a long time in L.A. in the music scene here. She has a single right now called "You Can't Hide" that was featured on the The X-Factor. And we're also touring with Yell for Help, the same guys who produced our new EP.
Check out the group's new EP, including its debut single "Adelaide:"
[divider_flat]