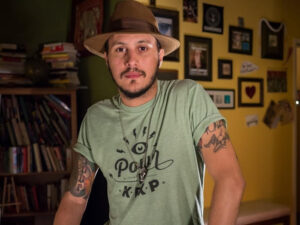 Maneuvering through the tangled web of the music industry is no easy feat, but production veteran Eric Lilavois has managed to land a successful years-long career doing just that.
Producing tracks for everyone from My Chemical Romance, to Atlas Genius to TV shows galore, the mid-30s-aged mastermind also works as a talent booker for Make Music Pasadena festival, he owns Pasadena's Crown City Studios and as of 2013, he co-owns Seattle's famed London Bridge Studio, where a slew of legendary bands have recorded albums, including Soundgarden's Louder Than Love and Pearl Jam's Ten.
As he gears up for the official release of his starring documentary The Journey (which takes viewers through the process of making music [check out an excerpt here]), "The God in Our Glass" singer is also "excited" about the revamp of his London Bridge Studio, an effort he calls "a work in progress," explaining, "We've been restoring our console. We have this awesome, incredible 1970s console. It's a totally analog board. That's almost done, that's two-thirds of the way done. But the board is still working through the process. The cosmetic stuff, like the remodel of the lounge, is going to be done by the end of the year."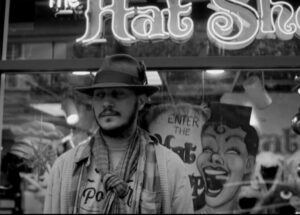 In the midst of his seemingly choatic day-to-day life (you wouldn't know this by talking to him though – he could not seem more laid-back), Lilavois chatted with skyelyfe and offered up some interesting points to know about this crazy little industry we know and love:
1. Even the most experienced industry veterans still have moments of awe!
"There are so many, it's intense," Lilavois says of those kind of moments. "I think one of the times when I was shaking my head, going, 'Wow, this is really going down,' was sitting in the green room at Jimmy Kimmel when Saint Motel took the stage. That was definitely one of those moments – to see an artist you've worked with push that hard and actually make it through to the other side."
2. There are obviously always lessons to be learned
"I always say humility and patience go a long, long way in an industry that can be quite the opposite of those two things," Lilavois explains. "That's just my own internal take on it. There is something to be said about music is very intense and the emotions we're trying to convey are very intense and there's a time and a place and a moment for that. I think respecting and trusting and having a healthy working relationship with the people who you're creating the art with and are helping you create the art is everything."
3. Sometimes it's challenging to initially spot an artist who could potentially hit the jackpot
"It's just a feeling, a sense," Lilavois says. "There are some artists where it takes a little longer to really feel that, you know? It's not necessarily just this thing on the spot. And it takes a long time to get there. There are bands where 10 years after that first moment working with them, they're barely starting to break. The real training is horse racing [laughs]. I spend a lot of time at Santa Anita Race Track. That's my producer training."
4. Do what works for you!
"There are a million different [production] styles," Lilavois says. "The magic is finding your own. That's what takes most amounts of time. Some producers are very musical and some aren't. There are a lot of different styles and a lot of different ways to be. Just spend some time acknowledging and embracing whatever your style is and nurture that."
5. Be on the lookout for Lilavois' up-and-coming talent
"There's an artist I'm in pre-production with up in Seattle named Susy Sun," he says. "She's fantastic. We did a single together for London Tone, which is a label up here that is in collaboration with my studio up here London Bridge. We did one single and we're going to be doing a full EP together. Her and Andrew Joslyn, who is the arranger and string player for Macklemore & Ryan Lewis. And there's another band – a Los Angeles band that played Make Music – Forbear, and we're going to be working on some material towards the end of the year. I'm excited about that!
[divider_flat]