From Tacoma, Washington, just outside of the alt-rock-friendly Seattle area, The Fame Riot (brothers who go by stage names Liz Scarlett and Shazam Watkins) are shaking things up in the Evergreen State with their indie-electro debut EP Dust Funk (scroll to the bottom), which was just released yesterday.
"I think the music sort of speaks for itself, like that I think it's a big mixture between all the types of really good vibes you get along the west coast," Scarlett tells skyelyfe. "It really sort of influences the music in that sense. [The EP] is a soup. It's a soup that never stops cooking, you can try it any time you like."
"Heart Stray," the first single off the EP, gives listeners a taste of the dance-rock style the duo dishes out on the remainder of the nine-song selection of tracks.
Drawing inspiration from their surroundings and the past four decades, The Fame Riot – who performed at Seattle's Bumbleshoot Festival during Labor Day weekend – has been described as "a mix of electronic, pop, disco, rock, and everything in between."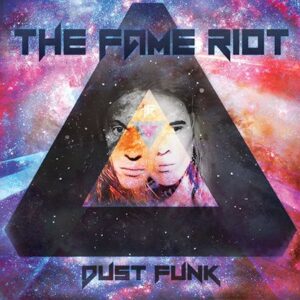 "Aw man, we love the old stuff, like back to [David] Bowie and Queen, and freakin' Iggy Pop, and David Byrne, all the way," Scarlett says. "We could push it back further, but I think those and Michael Jackson."
As for modern music, they list Hot Chip, Empire of the Sun and Flume as some of their go-to artists.
Their colorful mix of musical influences also reflects their own personal style. Sporting crazy prints and shades, it's safe to say they aren't afraid to stand out in a crowd.
"We go to outer space and take little adventures and we come back with different garments," Scarlett jokes. "No, we like thrift shops, we like antique stores. I like to find old air-force fur coats and anything that's lasted 30 years. [Vintage items] usually [have] a good energy about [them] when you put them on."
Adds Watkins: "People give us a lot of clothing that they don't wear anymore. So, when you wear their clothing on stage, it's sort of like a transcendental sort of transference of this energy they had back in the '80s, '70s, and then we're sort of continuing it on."
The guys seem pleased with how far they've come as musicians, but Scarlett acknowledges the road to success as an independent artist is no easy feat.
"I think the biggest challenge as an artist is continuing to grow everything on your own – acting without a label and acting without someone doing everything for you," he says. "It's a challenge to keep doing it yourself and keep topping yourself with your own assets and your own resources and capabilities."
Luckily, the guys describe their Tacoma home base as "a constant creational environment."
They also said they would eventually love to live out here in the Golden State.
"It's very much calling our name," Scarlett says. "A big part of us is still in California, so I believe we'll be back many-a-times."
[divider_flat]