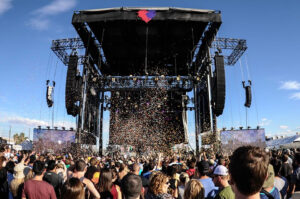 With fall underway, most of the year's biggest music festivals are a thing of the past.
But Life Is Beautiful gives people a chance at one final big festival hurrah until 2016 Coachella.
Taking place this weekend in Downtown Las Vegas, the music and arts festival features huge talent, including Stevie Wonder, Kendrick Lamar, Imagine Dragons, Brandon Flowers, Snoop Dogg, Duran Duran, Kygo – and a slew of my favorites (Porter Robinson, Death Cab for Cutie, Madeon, Future Islands, Glass Animals, Peking Duk, Audien and What So Not).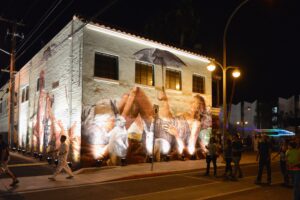 Skyelyfe sat down at Soho House in West Hollywood with the festival's co-owner, WENDOH Media's Ryan Doherty. Doherty discussed the headliner selection process, the things that set this festival greatly apart from the others and some of the year-long challenges that were faced in pulling this incredible experience together.
Read on to learn six behind-the-scenes things to know about Life Is Beautiful festival:
1. The Setup Is Wild
"At a music festival, you're usually in a venue. In this case, the entire downtown is turned into a venue," Doherty said. "We fence off 17 blocks, we have stages and parking lots in the middle of the streets. There are casinos, bars, restaurants that become parts of the venue. It has this ever-evolving footprint that changes every year."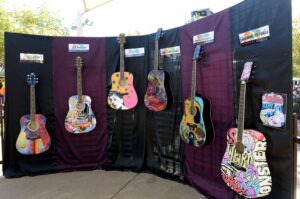 2. Here's How the Headliners Came to Be
"We had a lot of artists we went after for headliners," Doherty said. "The festival scene has gotten so broad now. There's a festival every weekend, and we're all fighting over the same talent. We got lucky. We did end up getting who we wanted. Stevie Wonder was a big get for us. He's not going to be playing for a [much longer] time. You never know when he's going to hang it up, so for us to get him for a festival is a good get. We had hoped to get Imagine Dragons because we don't have a local sports team. We have very few hometown heroes. So, the Killers and Imagine Dragons are like our two hometown heroes. and Kendrick, we kind of bet on that horse, so we got him a long time ago and hoped he would catch on fire. And so far, it's paid off. He's turned in some great festival performances already this year. His music is smart and conscious. One of the goals was to make the lineup diverse, and I think that was accomplished."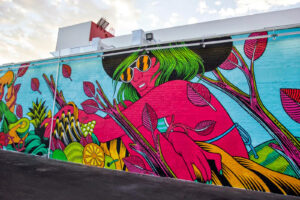 3. The Challenges of Putting Together L.I.B Differ from Other Festivals
"There are a million moving parts to a music festival," Doherty explained. "There are tons of speed bumps, but no obstacles. It just takes a long time to get things done. Most of you go to a music festival and you have to deal with the personalities of rockstars. We have to deal with the personalities of chefs and rockstars. We have an entire speaker series, so we have all these speakers. It's a lot of stars who have all different personalities and are all coming in from different places from all over the world. Just booking their travel is a full-time job."
4. Just Dealing with Venue Matters Alone Took a Whole Year
"We have to shut down city blocks, rearrange traffic," Doherty said. "When you have a venue you can walk into, like a Coachella, where it's a big field, it's a lot easier. We have residents that we move to hotels for a weekend, we have perimeter fences that we have to put up around 17 blocks. People are surprised it takes a whole year to put this together, but it's 100,000 people across four pillars. We have the speaker series, we have the culinary program, then we have the musicians and then we have art."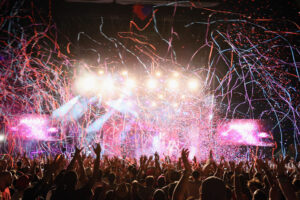 5. The Festival's Learning Project Is Something That Doesn't Exist Elsewhere
"It's essentially built around the platform of small, 200-300-person theater-style engagements going on during the festival," Doherty explained. "It's short-form content. These are 20-minute sessions. The idea of it is so that if you're in groups, you can divide off and two of you can catch a session while the others catch a music set and then you can meet up and get some food together. The learning project is really meant to inspire everyone. You're not getting that at any other music festival – whether it's an inspirational culinary experience or little pop-up demonstrations."
6. Despite Its Las Vegas Location, L.I.B. Doesn't Typically Bring Out the Party Animals
"It's really not that kind of festival," Doherty said. "It's not that crazy type of environment."